***URGENT UPDATE***

New guidance for hospitality and leisure organisations to be implemented by Thursday 24 September
Businesses are reminded they must display tracer code QR posters and log details of all customers under new Covid rules.
Hospitality and leisure organisations across Redcar and Cleveland are being reminded that they are now legally obliged to log details of customers, visitors and staff for NHS Test and Trace. They must also display special tracer 'QR' code posters from Thursday 24 September.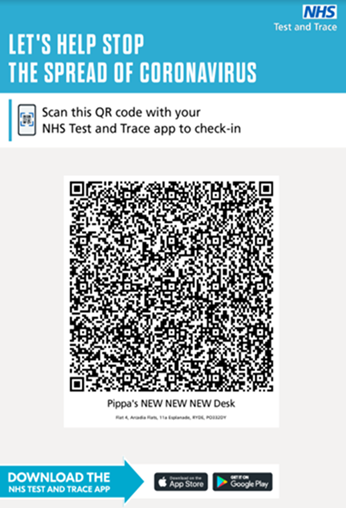 The official NHS QR code posters must be displayed ahead of the NHS COVID-19 app being rolled out across the country. It will be the responsibility of the owners to make sure their customers are aware of the rules by displaying posters and signs and speaking to their customers directly.
The posters are designed to make it easier for people to check-in at different premises. If individuals choose to check-in using the QR code poster they do not need to log in via any other route. To create a poster log on to www.gov.uk/create-coronavirus-qr-poster and follow the instructions.
When someone enters a venue and scans an official NHS QR code poster, the venue information will be logged on the user's phone. The device will check if users have been at that location at the relevant time and if the app finds a match, users will get an alert anonymously with advice on what to do based on the level of risk.
The latest track and trace measures are made following the enforcement of the Rule of Six measures which came into force on Friday 18 September.
For further information and resources – including how to create a QR poster for your venue, please visit: 
https://www.gov.uk/create-coronavirus-qr-poster
https://www.gov.uk/government/news/venues-required-to-enforce-rule-of-6-nhs-qr-code-posters-and-contact-logs
https://www.covid19.nhs.uk/information-and-resources.html
Advice on protecting people in workplaces from Coronavirus
There are currently restrictions in place to prevent the spread of Coronavirus, including restrictions on normal work activities. It is the responsibility of everyone to do their bit for the protection of key workers and vulnerable people.
As the UK moves to the next phase in our fight against coronavirus, the Government has updated their social distancing guidelines, which you can read here.
General guidelines applying to everyone have been issued by Public Health England here.
Restrictions on businesses who operate workplaces have been put in place. This guidance is to explain, to businesses and workers, what you can and must do at this difficult time. This is just a summary but hyperlinks have been included so that you can access all of the documents mentioned for further information.
Emergency law has been made which prevents specified non-essential businesses from operating. This law is the Health Protection (Coronavirus, Restrictions) (England) Regulations 2020. These regulations list all of the businesses which are subject to restricted opening or full closure.
If your business is not on the list then you are not being asked to close your business. Your business does not have to be "essential".
The government wants all other businesses to carry on where possible but it is important that measures are taken to prevent spread of infection. Some of these measures are:
People should be working from home if they can. Employers may need to make some adjustments to how work is done to achieve this.
Do not allow workers who are unwell, or live in a house where someone else has symptoms, to come into work. If they become unwell, send them home.
Everyone should follow the social distancing guidelines if this is possible.
Extra care should be taken to clean and disinfect surfaces such as door handles, taps and flush handles, keypads, telephones, equipment controls and any place where people eat or drink.
All workers must have access to warm water and soap for frequent handwashing. If this is not possible, for example a driver, then alcohol based hand sanitiser can be used.
The Health and Safety Executive have published guidance here.
Guidance on re-opening your business premises once restrictions are lifted
The Department for Business, Energy and Industrial Strategy (BEIS) has published further guidance on how businesses can reopen and operate safely to protect their staff and customers. There is a toolkit available with digital assets, which has been updated to include a new shops video.
Cases/suspected cases of COVID-19 – guidance for employers
In the event that a business has a confirmed, or suspected, case of COVID-19.
Read more about COVID-19: guidance for employers.
Cleaning, disinfecting and waste disposal in non-healthcare settings
The Government has released hygiene guidance for individuals, households, and businesses.
Read more about COVID-19: cleaning in non-healthcare settings.
Public Health
For the latest health advice, please contact the NHS.