Support for Outdoor Hospitality –
Updated: 13 August 2021
Hospitality businesses wishing to use the pavement adjacent to their property should apply to the Council's Licensing Team for a pavement licence or a pavement café licence:
A pavement licence is a temporary solution which can be issued up to 30 September 2022 and is free of charge.
A pavement café licence is a longer term solution which can be renewed every year but is subject to a charge.
Details of both licences can be found at:
https://www.redcar-cleveland.gov.uk/business/licensing/licensing-az/Pages/Pavement-Cafes.aspx
Where hospitality businesses cannot meet the conditions of a Pavement License on the pavement adjacent to their property, the Council will consider the use of the adjacent road (the 'carriageway') to support the pavement café area on a case by case basis taking into account:
The number of additional covers that could be created as a result of the closure (it is unlikely that parking bays will be suspended to facilitate less than six additional covers)
The frequency of trading (where the carriageway is not in regular use as part of the pavement café, the facility may be removed)
The requirements of other hospitality businesses in the vicinity
The availability of alternative car parking in the area for residents, businesses and visitors
The impact on the highway network, including Highway safety and the free flow of traffic
The impact on the street scene, amenity and pedestrian safety and convenience, particularly the ability to maintain social distancing
Confidence in the applicant's ability to maintain social distancing and prevent nuisance
The availability of suitable equipment
Provision of carriageway for use as a pavement café will be entirely at the discretion of the Council and may be withdrawn at any time. The provision will be reviewed at the re-opening of indoor hospitality and because of changed circumstances, including applications from other hospitality businesses. There will be no full closure of the carriage way.
Businesses will still need to hold a Pavement License to operate and may require other permissions to ensure the safe and continued operation of any barriers or other infrastructure. Should the conditions of any licence or permission not be met, or barriers and other infrastructure not be appropriately managed, this package of support will be removed.
Businesses wishing to request use of the adjacent road (the 'carriageway') adjacent to their premises to facilitate outdoor hospitality should email licensingadmin@redcar-cleveland.gov.uk including a sketch plan of their proposed scheme.
This project is funded by the Welcome Back Fund.
The Welcome Back Fund has received £56 million of funding from the England European Regional Development Fund as part of the European Structural and Investment Funds Growth Programme 2014-2020. The Ministry of Housing, Communities and Local Government is the Managing Authority for the European Regional Development Fund. 
Established by the European Union, the European Regional Development Fund helps local areas stimulate their economic development by investing in projects which will support innovation, businesses, create jobs and local community regenerations. Find more information on the gov.uk website.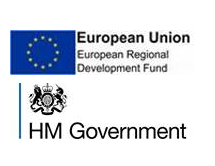 Special guidance for food businesses
If you operate a food business there is additional advice available on how you can protect people in workplaces from Coronavirus. The Food Standards Agency have published guidance here. This includes how to manage social distancing for customers.
The Chartered Institute of Environmental Health has produced detailed guidance for businesses offering takeaway and delivery food services. This is available here.
Registration of new food businesses
There is a requirement for all food businesses to register with the Council before they start to operate. This applies to charities and non-profit making businesses too. This means we can get essential information to you if necessary as you must still take steps to make sure food meets food safety requirements.
You do not have to be inspected before you start operating your business. If your business is temporary during the Coronavirus crisis then you just need to email to tell us when you have stopped. It is easy to apply to register online and there is no fee. To register simply click here.
For further information please contact The Environmental Health (Commercial) Team by email at food_team@redcar-cleveland.gov.uk.