An independently owned ice cream parlour in Redcar has signed up to become the 100th organisation to help promote Redcar and Cleveland as a great place to live, enjoy and do business.
Gabrielle's opened on Redcar's seafront in August. In just four months the ice cream sundaes, sandwiches and drinks sold in the 50s inspired parlour have become firm favourites with residents and visitors alike.
Owned and managed by married couple Gabrielle and Jay Bailey, the business now employs 14 local people and already has exciting plans to expand with the opening of Planet Kids, a children's soft play centre above the parlour.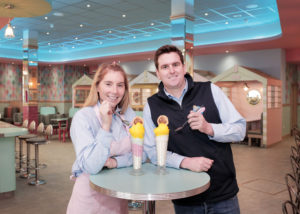 Gabrielle and Jay have now both signed up to become the 100th Redcar | Cleveland Ambassadors.
The Redcar | Cleveland Ambassadors programme is a network of companies, organisations and groups, large and small, who are all committed to helping the borough develop its economy, increase employment and create the greater demand for housing, restaurants and leisure activities that disposable income generates.
The Ambassadors will act as a sale force and 'talk up' the borough, encourage investment and retail spend for the benefit of all.
Dancing grandmas!
Business owner Gabrielle Bailey, 29, said: "Since opening, we've had a great welcome from the locals and visitors.
"People have been really enthusiastic about the parlour and we've even had grandmas dancing to the 50s music we play, much to the embarrassment of their grandchildren!"
No stranger to the Redcar seaside economy, Gabrielle's father George Caris has run the popular Tyne Tees Entertainment amusement arcade on the seafront for more than 40 years.
A real family business, the couple have named one of the shop's indoor beach huts after their one-year-old daughter Camille. The other four beach huts are named after Jay and Gabrielle's grandmothers.
Jay, 30, is originally from Clacton-on-Sea and also has a background in seaside attractions. He said: "We're happy to get behind any scheme that brings in more business to the borough.
"Shops, cafes, pubs, restaurants are all part of the same economy and so what benefits one business should benefit us all. We all want our businesses to thrive and by becoming Ambassadors, we can join a larger group of businesses who all have the same aim."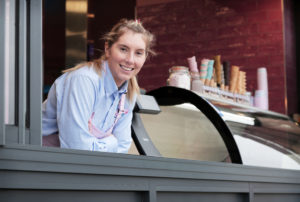 Welcome to Redcar | Cleveland Ambassadors
Frans Calje, chief executive of PD Ports and chair of Redcar | Cleveland Ambassadors, welcomed Gabrielle's to the programme. He commented: "Welcome to Redcar and Cleveland Ambassadors Gabrielle's!
"It's great that young entrepreneurs like Gabrielle and Jay have the confidence in Redcar and Cleveland to make such an investment. Both born and raised in seaside tourism, they have achieved so much in such a short space of time and now employ 14 members of staff with plans to develop their business with the addition of a kids' play centre.
"Their hard work is sure to pay off and their commitment to Ambassadors programme will be a huge benefit to us all."
Gabrielle's can be followed on Facebook.