An artist is transforming air pollution into art as part of the focus on clean air at this year's Festival of Thrift.
Peter J. Evans, 42, an artist who has exhibited nationally and internationally and who is one of the five artists commissioned for the second year of the ambitious and exciting Viewpoints by Festival of Thrift art project, is creating a giant drawing using ink recycled from exhaust fumes.
His work will feature as part of the event, which will see large-scale artworks placed at often unexpected – and yet to be revealed – locations across the Tees Valley region from 12-19 September, to prompt discussions about sustainability issues.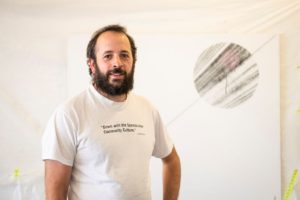 Viewpoints
The other artworks in this year's Viewpoints by Festival of Thrift will also respond to the festival's clean air theme for 2019.
They include a lung cleaning station by artist and curator Dawn Felicia Knox, a series of enormous painted canaries created by Colin Davies using a dazzle camouflage technique, an extraordinary green house by Cabinet of Curiosity, whose striking paper-based artworks have been exhibited nationally and internationally, and a free-standing observation platform by Sally Hogarth whose stunning structures and artworks have been featured at high profile international exhibitions and festivals in London.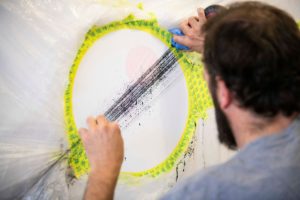 Sustainability
The artworks will appear from 12 September, in the run up to the festival weekend, which is celebrating its seventh year in 2019 as the UK's celebration of sustainability.
Peter, who visited Palace Arts Gallery in Redcar ahead of Clean Air Day 2019 from his Tyneside studio to help launch this year's Viewpoints programme, explained that his artwork will showcase pollution in its physical form using "air ink" created by Graviky Labs of India, which has pioneered the extraordinary process of turning vehicles' exhaust fumes into artist's ink.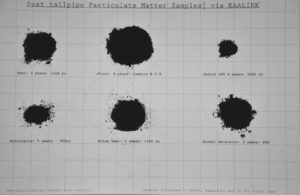 Poignant
He commented that the clean air theme for the 2019 programme struck him as "poignant and also something that we have to start looking at. Typically, in human short-term thinking we've left our chance to deal with our over-production and pollution until the very last moment, I hope it's not too late.
"My wall drawing for Viewpoints by Festival of Thrift, whilst taking an abstracted form, will be created in response to the concerns of pollution, of an atmosphere being generated filled with a silent and dangerous agent. The work will be performative in nature, whereby over the course of the week the wall will be redrawn over, layer upon layer.
"Formal elements of the work will disappear under these layers, until only the marks of pollution, in the form of "air ink" remain. Showcasing pollution in a physical form, making a usually invisible environmental issue viewable with the naked eye.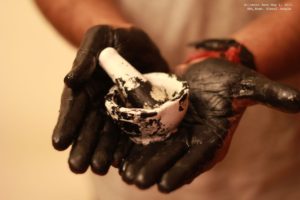 Intriguing
Peter, whose work has been exhibited at Kiasma in the Finnish capital Helsinki, the ICA in London, BALTIC39 in Newcastle and Hangmen Projects in Stockholm, Sweden added: "People always bring their own viewpoints and insight to a work and I'm hoping my piece is visually intriguing enough for people to engage with it. Hopefully the image sits in their mind and some of the ideas behind it seep in."
Festival of Thrift director, Stella Hall, said that the clean air focus of this year's Viewpoints project is highlighting a vital and highly topical environmental issue that harms the health of millions.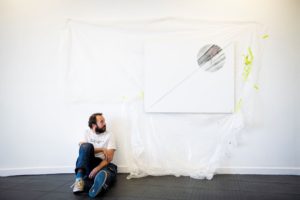 "The World Health Organisation has linked air pollution to millions of premature deaths across the world. It is also a major factor in climate change so we decided to commission these innovative artists to create artworks to raise awareness about it and prompt discussions about actions that can be taken to improve air quality.
"It is also an opportunity to draw attention to the significant improvement in air quality in the region over the last decade upturning ideas of the Festival's Tees Valley base as a dirty industrial landscape, and testament to the fact that action on air pollution can have very positive results."