Lewis Mitchell was only 16 and straight out of school when he signed his apprenticeship contract with SSI in Redcar. The following day it was announced that the steelworks were to permanently close.
"I was devastated," explained Lewis, now 20. "I felt ready to start my career, I'd just left school and went through the whole interview process, I signed my contract and everything. And just like that, it was taken away."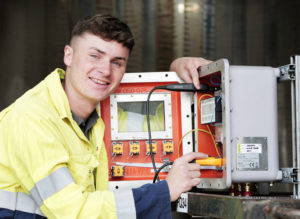 Electrical apprenticeship
Lucky for Lewis, less than a week had passed and Seqens Custom Specialties (formerly Chemoxy), one of Teesside's largest chemical companies, stepped in to offer him an electrical apprenticeship with help from SSI Task Force funding.
Andrew Purvis, Seqens' Quality and Training Manager, said: "We offered him the apprenticeship even though we weren't really looking for an electrician at the time, but we had funding from the SSI Task Force, and through Lewis's own development and our growth as a business, he created his own job.
"He jumped in quickly and landed on his feet."
I love the job
Following his three-year apprenticeship, Lewis, who lives in Redcar with his mum, dad and sister, has now secured employment with Seqens full-time as an electrical maintenance technician.
"I love the job and really enjoy it," he said. "I have a good laugh with everyone here and I get lots of opportunities to train and grow.
"I have much more responsibility now and Seqens is funding me through a Higher National Certificate in Electrical Engineering, so the opportunities keep coming. The job has matured me quite a bit."
Andrew said: "Lewis had the right attitude, and was willing to learn. We're all very proud of him."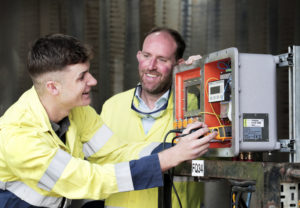 A bright future
Amanda Skelton, Chair of the SSI Task Force, said: "Lewis was one of 50 young people who were helped by the SSI Task Force when their SSI apprenticeship came to an abrupt end in 2015.
"I would like to thank Seqens for reacting so quickly and creating a new opportunity for Lewis. He can now look forward to a bright future, making the most of his skills and growing experience."
Tailored support
The SSI Task Force was set up in September 2015 in response to the closure of the SSI steelworks in Redcar with the immediate loss of more than 2,000 direct jobs and more than 800 jobs in the supply chain. The aim of the group was to provide tailored support to affected workers, local businesses, communities and the wider economy.
Since September 2015, tailored programmes have been delivered to help people find new jobs, complete apprenticeships, start new businesses and train for suitable employment.
To date, 2,152 new jobs have been created, 23,732 training courses have been agreed and 345 business have been started.
For more information on the SSI Task Force, please visit www.ssitaskforce.com