Alistair Bibby was raised in Redcar and is now an Executive Director at Goldman Sachs in London where he lives with his wife Kaori (who he met in Tokyo) and daughter Emma. Alistair, who has recently signed up as an Ambassador and proudly talks-up our place in London, tells his story –
"Redcar was a great place to grow up. Going to see matinees at the Regent, Santa in Uptons at Christmas, hiking to Saltburn along the beach in the summer and swimming in the sea, Pacittos lemon tops, Ings Farm chippy, the Roller Disco and as we got older, the Coatham, the Hydro…and Saturday afternoons at Ayresome Park. You really couldn't ask for more.
In September 1988 my journey outside the North East began. I was working as a Lab Assistant at ICI where I developed an interest in IT.
I wasn't qualified to go to University but applied through clearance and got rejected. I called them every day though and after a month they offered me a place just to get me off their back. This persistence has been a theme throughout my career, and I think reflects the spirit of our area.
After graduating, I was determined to get a career in Investment Banking and after 3 years of temp jobs and many interviews later I finally managed to get a job at BNP Paribas doing Trading floor support.
In 1997 I got the opportunity to move to New York for 2 years to run a big infrastructure upgrade. For a lad from Redcar, walking home along 5th Avenue surrounded by skyscrapers was unbelievable. The liveliness and energy of the city was unlike anything I'd seen before and it really was the city that didn't sleep.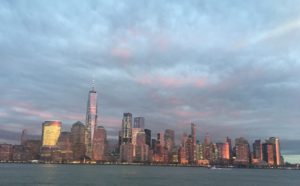 In late 1999 I was asked to go to Japan for 6 months to take over the Y2K (Remember that?) programme. I didn't really want to go as I'd just got back to London and bought a flat but agreed as long as it was only 6 months. I immediately fell in love with Japan and its culture. My first memories are the glorious sunset on the bus ride into Tokyo…and then the earthquake the next morning.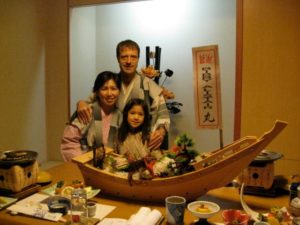 The attention to detail and efficiency in Japan still amazes me. The commitment to society plays a big part. Kids are brought up to understand that every job is important. When my daughter was in junior school the teachers would eat with the children to teach them about society and wellbeing.
A favourite activity in Japan was skiing. The closest main skiing areas are 150 miles from Tokyo but being Japan, you could get a Bullet train from Tokyo to a resort where you could literally walk across the platform and jump on the Gondola. Central Tokyo to Ski slope in just over an hour…and relaxing in the outdoor hot springs with a Beer afterwards was heaven!
My six months came and went in a flash and before I knew it 17 years had passed. After a couple of years back in New York we're in London now but, Redcar will always be home.
We have stunning countryside but for me nothing beats the view of the lights over Wilton when you come down the Parkway or a brisk walk along the South Gare on a Sunday morning to blow off the cobwebs…and it is nice to not have to stay up to 1am watch the Boro!

I think our area has a bright future because of the people. The world is changing rapidly and advances in technology means people and businesses will not be as tied to big cities in the future. Us Teessiders are tenacious and innovative which makes us well placed to take advantage of the opportunities that come with that.
Now that I'm back in London I have become active in advocating for the region. It's important for people from the region to use their networks to advertise the potential our place has to offer. I am currently working with a group of like minded London based professionals from the North East who have influence in different sectors to form a group to promote the region"
– I'm sure people will agree, this is a perfect example of what an Ambassador is! Thanks Alistair!