Our latest Ambassador shouts proudly about Redcar and Cleveland – all the way from Melbourne.
Talented artist Ray Jones moved to Australia as a "ten pound Pom" in the 1960s, but remains as committed a Teessider as ever.
Ray, 78, sketches and paints scenes from our area and is looking forward to visiting his sister in Redcar next May.
Ahead of his trip he's signed up as a Redcar | Cleveland Ambassador after many years of encouraging Australian tourists to visit our region.
"Australians tend to travel from London to Edinburgh, bypassing the wonderful North East so I advise them to make a detour to see what the region has to offer," Ray says.
"I also tell them that Captain James Cook would have had an accent like mine and that he was born and lived in the area before going to sea.
"At least every two years someone from our extended family travels to or from Teesside, keeping the link going and we regularly communicate by phone, email and Facebook."
Examples of Ray's art include pieces inspired by Paddy's Hole at South Gare, St Germain's Church in Marske, the Teesside Blast Furnace and the Coatham Hotel in Redcar.
Ray explains: "Although my art subjects are varied, I love painting scenes from home. The landscape, architecture and colour is so different from Australia. Whenever I visit I always try to capture prospective compositions by sketch or camera."
Ray, whose first job after landing at Fremantle, Western Australia, was "welding a pipeline through the bush and sleeping in tents", has lived a varied and interesting life Down Under.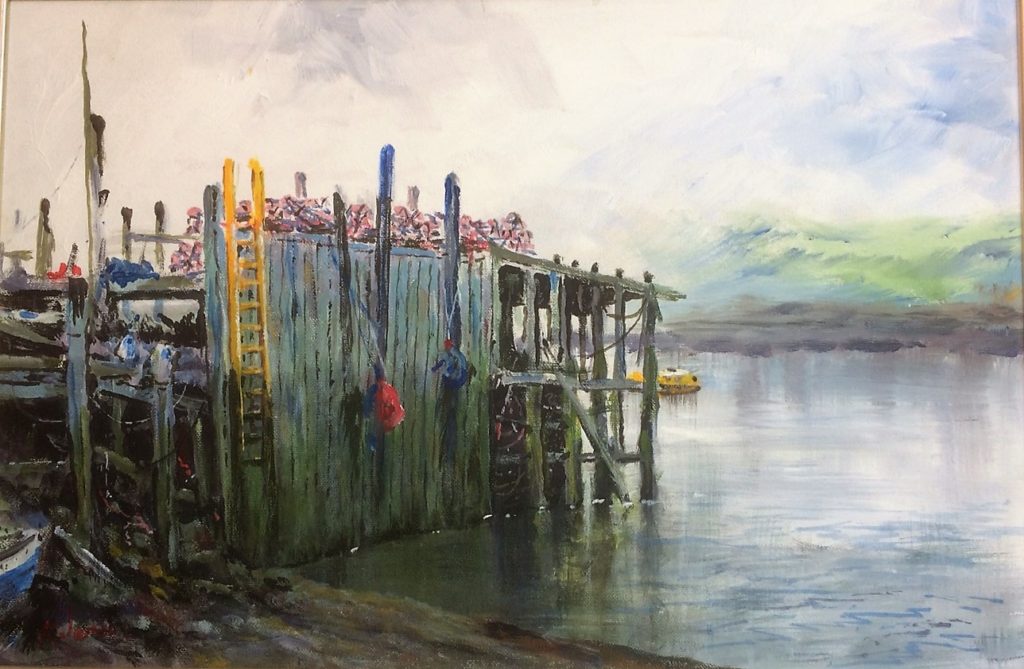 Paddy's Hole by Ray Jones
"I came to Australia for a cheap look around as a 10 pound Pom in 1963 after completing a plumbing apprenticeship at ICI Wilton, and I'm still here," he says.
"I brought my paints with me and I've been painting and sculpting ever since.
"For many years I ran my own plumbing business in Melbourne and eventually spent 22 years as a secondary school teacher.
"I have a degree in fine art (sculpture) and have been the President of the Box Hill Art Group for the past eight years."
Ray, originally from North Ormesby, Middlesbrough, is married to Helen and the couple have three children, 10 grandchildren and two great-grandchildren.
He loves to tell the youngsters all about home and is busy making plans for his trip next year.
"Helen and I and our 25-year-old grandson Jonathan are looking forward to a visit to my sister in Redcar. We are looking forward to catching up with family and friends once again.
"We will particularly love showing him the local area 'where granddad came from.'"
Can you join Ray and our hundreds of other individuals and organisations helping to tell Redcar and Cleveland's story? Find out more and sign up for free here.