Sunday 14 April will see some of Europe's top cycling teams take part in the multi-lap race, taking in the stunning surrounds of East Cleveland as the peloton makes its way through villages and towns lined with cheering supporters.
The women's race begins in Guisborough's Westgate at 9am with the men's and youth races getting underway at 1.30pm. Spectators are advised to get there early to guarantee a good viewing position as the races begin.
Riders will complete the loop multiple times; twice for women's race and three times for men's race.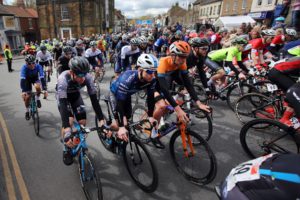 Elite racing
The East Cleveland Klondike Grand Prix is now proudly part of British Cycling's Spring Series HSBC Elite Cycling Series and is organised by East Cleveland Villages Big Local in partnership with professional race organisers Velo 29 and sponsored by Redcar & Cleveland Borough Council.
Matt Leach, Chief Executive of the Local Trust which awarded the East Cleveland Big Local £1 million in funding, recently visited the area and discussed the race.
He said: "I'm incredibly excited to be here today, looking at all the work that's being done in East Cleveland and the real achievements they've made over the last five years.
"But particularly, having a look at what they're doing around the Klondike. Because as a Big Local Area, the Klondike bike race is unique and I think actually when you look at the racing calendar this is really becoming a very important part of it."
50 kilometres an hour
Race director, Richard Williamson, from race organisers Velo 29, said: "We've got 140 male riders and more than 70 women competing this year.
"They'll be hitting speeds of more than 50 kilometres an hour on the descents and will be flying through Westgate. If you've never seen pro-cycling up close, the East Cleveland Klondike Grand Prix is a must."
Special guest Dimitrios Konstantopoulos, Middlesbrough Football Club first team goalkeeper, will be presenting the triumphant riders with their winner's trophies.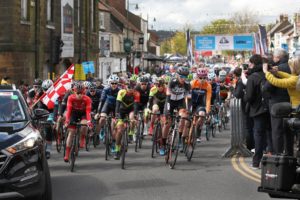 Frequently asked questions
• Time and date
Sunday 14 April
The women's race beings in Guisborough's Westgate at 9am and is expected to end around 12pm. The men's and youth races begin at 1.30pm, with the youths expecting to end around 4pm and the men returning around 5.50pm.
• What is the route?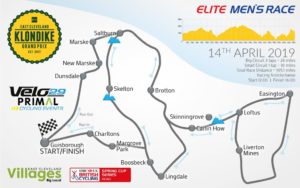 • Will there be road closures?
Guisborough's Westgate, Fountain Street and Challoner Street will be closed to vehicles all day.
The rest of the route throughout East Cleveland will be closed on a 'rolling' basis. The riders will be accompanied by police and race officials ensuring their path is free of potential danger. We ask drivers to follow the instructions of the police as certain roads may be blocked to allow safe passage of the riders. Roads should not be blocked for more than 15 minutes at any one time.
• How early should people get there for a good view?
Spectators are advised to get there around 8.30am for the best viewing position.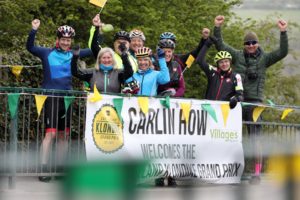 • Is there an event village/ entertainment during the day?
There will be a market in Guisborough and the villages along the route have arranged some wonderful fun for the spectators. Coffee mornings, face painting, drawing competitions, bands, exercise sessions and more are on offer during the race day.
• How can I get involved?
You can come along on the day and make as much noise as possible!
In previous years, people have decorated the route with bikes, put up bunting and made their own flags.
• Where can I find out more information?
Keep an eye on www.eastclevelandklondikegp.co.uk or follow the race's Facebook page.