January is racing along! We were treated to spring-like early morning sunshine today and there are lots of positive snippets from around Redcar and Cleveland to reflect on in our latest Friday Five update.
1. We may have featured it on the site already this week, but we're unashamedly putting the return of the Festival of Thrift in the number one slot. It was confirmed on Tuesday that the 2020 event will take place at Kirkleatham on 12 and 13 September. It's a great occasion that brings thousands of visitors to our area. Find out more here.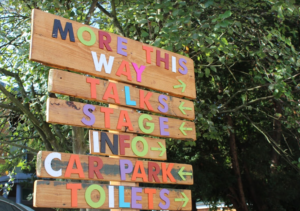 2. There was further progress on the Sirius Minerals takeover this week as the firm agreed a £405m deal with global mining giant Anglo American.
Shareholders have been urged to accept the offer. Anglo American's chief executive said this week he would use Sirius Minerals' estimate of 4,000 direct and indirect jobs as a "starting point" for the project.
3. There was a good news story from Ambassadors Tees Components earlier this week. The Skelton-based firm has invested half a million pounds on new heavy machinery that will double its capacity.
Managing director Sharon Lane said: "This significant investment represents a vote of confidence in the future of this business. It allows Tees Components to expand its capabilities by ensuring it has the very best technology."
You can read more here.
4. Looking ahead now and next Friday sees the first public screening of Youthquake at Tuned In! in Redcar.
The show, which is all about being young and changing the world, features youngsters from our area.
Tickets are free and available on Eventbrite or by calling 01642 771245.
1 week tomorrow until Zest Theatre – #Youthquake lands in Redcar!

FREE Tickets: https://t.co/vHaNkiSQWD

YOUTHQUAKE is powered by the voices of 800 young people across the country including many from Redcar & Cleveland. This is their story pic.twitter.com/pbVtD1ki9Z

— Tuned In! (@_TunedIn) January 23, 2020
5. And finally, there's still time to book your place on the Winter Walking Festival that takes place around Redcar and Cleveland from 31 January until 3 February. The guided walks range from a couple of miles up to a more testing 11 miles. Head here for more details and to book your place.
Looking to blow the cobwebs away? Our Winter Walking Festival can help you get active and spend more time outdoors in our beautiful borough.

Find out more below and book your place here: https://t.co/o2wlknjRLI pic.twitter.com/LWLu1U7YaB

— Redcar & Cleveland (@RedcarCleveland) January 13, 2020