MULTI-MILLION pound proposals to transform Redcar have been unveiled – and residents and business owners can now have their say.
Redcar is among 101 towns selected by Government to agree a deal for up to £25 million from the Government's £3.6 billion Towns Fund.
The Town Board, made up of representatives from across the public and private sector, have now revealed a number of large-scale regeneration and development ideas on how to make Redcar a vibrant, sustainable town. Not all proposals will be able to be delivered, so it's important people take the opportunity to have their say, helping the board prioritise the ideas.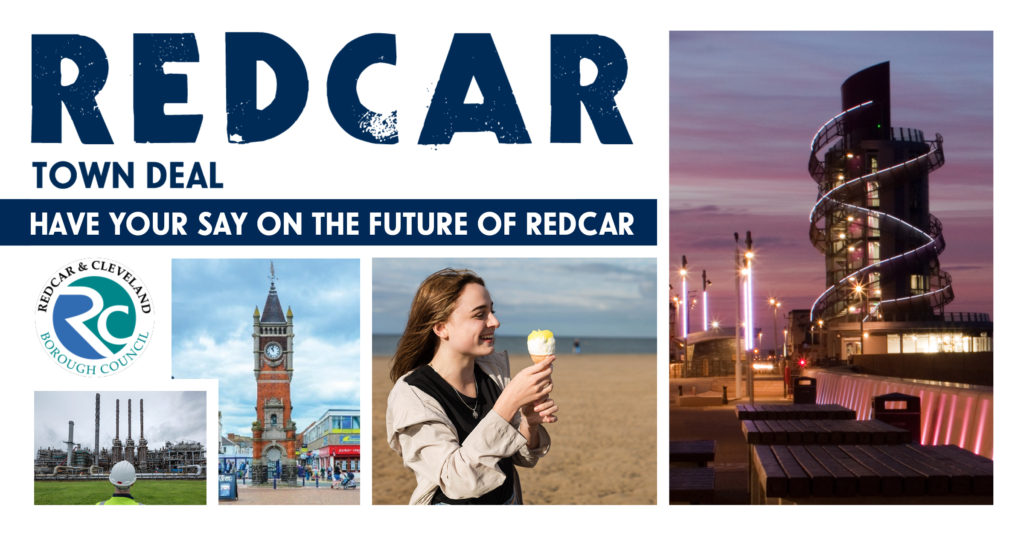 The exciting projects include the building of a new centre for water sports and outdoor activities at Coatham to help attract more visitors to the town, as well as the development of an indoor Family Activity Centre in one of Redcar's vacant town centre buildings, with activities such as bowling, clip and climb, and trampolining.
Another proposal includes linking the seafront to the High Street with a new outdoor events space where existing and pop-up businesses could trade outside.
The Council's services would also be brought together on the High Street with an improved library, café, digital lab, immersive storytelling space, and an employment support hub with meeting rooms.
Local businesses will be key to Redcar's success. The Town Board is proposing to support businesses with grants to improve their properties and to develop their online presence. Redcar town could also have free Wi-Fi across the whole area.
A new Centre for Energy at Redcar & Cleveland College is also being proposed. This would provide a training and skills facility tailored to the local economy's needs. Working with local investors and employers, the Centre will mean the borough's residents can benefit from new jobs in the fast-growing energy sector.
The board also aims to improve transport connections to Teesworks, which is set to become the UK's biggest industrial zone, to ensure residents can access job opportunities.
These plans would build on the major new leisure project in the Coatham area which was announced in September. The Government has agreed to grant Redcar £750,000 for the project which includes a new hotel, adventure golf site and play area. The Council is currently in talks with a hotel operator which will be based at the former RKade skate park.
Darren Winter, Chair of the Town Board, said: "The direct investment of £25m from Government places Redcar centre-stage and provides the town a unique opportunity to invest in much-needed projects which can maximise its position on the North East coast as a key tourist destination, and also a place that can provide sustainable growth with quality and skilled jobs in emerging industries, which are already attracting investment from both public and private sectors, such as Teesworks.
"On behalf of The Board, we encourage each and every personal and business in Redcar to take part in the consultation and help priorities the key projects. Please share the survey link with your family, friends and colleagues."
Councillor Wayne Davies, Cabinet Member for Economic Development at Redcar & Cleveland Borough Council, said: "This bid is a real opportunity for Redcar and the wider borough as a whole.
"This funding will help to increase economic growth, it will improve transport and broadband connectivity, it will provide people with the chance to train for jobs and learn new skills. It will also increase tourism by giving visitors more to do at the seafront.   "We must make the most of this opportunity, so we are asking as many people as possible – our residents and business owners – to please have their say on the ideas. We value everyone's views, which will help inform us on our next steps before we submit the bid to Government."
Jacob Young, MP for Redcar, said: "It is vitally important that we spend this funding in a way that benefits not just Redcar centre but the wider borough as a whole.
"We have been given a fantastic opportunity to make real transitional changes with this investment and I believe the board, led by Darren, has the skillsets required to ensure we grasp this challenge with both hands. I would urge everybody to have your say on how we use this investment to help put the area firmly back on the map as a great place to live, work and visit."
To give your ideas on the future of Redcar, please visit www.redcartowndeal.com