Plans are being drawn up to take advantage of Britain's first 'Special Economic Area' (SEA) status at what is one of Europe's biggest industrial sites in the borough.
The 4,500-acre South Tees Development Corporation (STDC) site from Redcar to South Bank is expected to be the first SEA in the country. It means there is the chance of flexibility on tax and trade rules at the site to help attract businesses.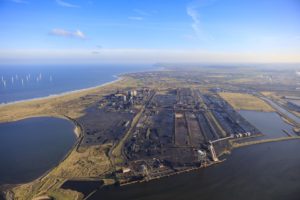 Economic benefit
Now a report to Cabinet outlines how an expected boost in business rates income in the SEA area would best be allocated to take further advantage of the special status and still further benefit the economy.
Currently the Local Authorities retain 50% of locally generated and collected business rates with the balance being remitted to Central Government, but with the establishment of a Special Economic Area from April 2020, the Governments share will be remitted to the South Tees Development Corporation for investment into the STDC site for improvements to the site and to attract more business.
Special Economic Area
The Chancellor announced the huge industrial site would be declared Britain's first Special Economic Area last year, although details have yet to be finalised and the required legislation has not yet been introduced.
World beating industry
Sarah Robson, Corporate Director for Growth, Enterprise & Environment, said: "Making the STDC site a success is the key to transforming the fortunes of the borough and could attract world beating industry from across the globe. It is vital that it is a success."
The Council expects to collect more than £340 million in total business rates over the 25 year period, sharing this equally between Redcar & Cleveland Council and the South Tees Development Corporation – work between Council, STDC and Government is ongoing to finalise this exciting proposal.
The report will be considered at Cabinet at Redcar & Cleveland Leisure and Community Heart at 10am on Tuesday 16 April.