Residents and visitors to Redcar and Cleveland are warned to keep an eye out as an invasion is set to take place throughout August.
Dozens of handmade effigies will invade the borough as the East Cleveland Scarecrow Festival returns.
The popular festival returns for the fourth year from Saturday 3 August to Sunday 8 September with scarecrows popping up in the most unusual of places.
Many of the scarecrows will follow a theme such as Wizards, Circus and the Victorian era.
Wacky creations
Festival organiser Denise Nesbitt said: "This year we see Saltburn, Lingdale and Lazenby joining in for the first time. We're thrilled to see so many new places taking part.
"All our scarecrows are handmade by volunteers and they look fantastic. We're stuffing the Borough full of our wacky creations."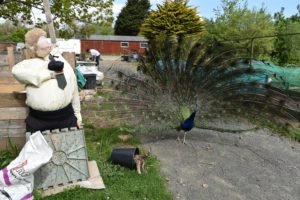 The East Cleveland Scarecrow Festival will be launched on Saturday 3 August when the Mayor of Redcar and Cleveland, Councillor Billy Wells and Loftus Town Mayor Councillor Kath Comes will be joined by Tees Valley Mayor
Wizard cake
Ben Houchen in Liverton Village Hall. At 10.30am they will cut and share the specially made Wizard cake made by Willow Cakes of Loftus.
The Mayor of Redcar and Cleveland, Councillor Billy Wells, said: "The East Cleveland Scarecrow Festival is a terrific grass-roots, community-led event.
"Denise and the volunteers work hard to make the Festival a success and the Council is happy to support it.
"It's a lot of fun and shines a spotlight on the villages that are so important to our Borough."
Local companies SABIC and PD Ports have provided financial contributions to the East Cleveland Scarecrow Festival with Redcar & Cleveland Borough Council providing assistance with the festival website and traffic management.
For further information: www.eastclevelandscarecrows.co.uk
East Cleveland Scarecrow Festival schedule:
• 3-4 August Liverton Village 'Calling all Wizards'
• 3-10 August Dunsdale
• 3-10 August Charltons Village 'Miners'
• 3-10 August Guisborough 'Imagination runs riot!'
• 4-11 August Carlin How
• 10-24 August Lazenby 'Anything Goes'
• 12-18 August Saltburn 'Victorian Era'
• 11-17 August Loftus 'Get Fit'
• 26 – August Lingdale with Produce Show
• 24-31 August Easington 'Circus'
• 24-31 August New Marske 'Disney'
• 31 August – 1 September Stanghow 'Children's Nursery Rhymes, Fairy Stories and Films'
• 1-8 September Boosbeck 'Space' Theme.