The North York Moors National Park Trust is making a final call for entries to their inaugural Art Award, with the window for applications due to close on Friday 31 May.
The competition, entitled 'Landscapes of the Mind and Heart' is for works of art that have been inspired by the diverse scenery of the North York Moors National Park. Judges for the Award have now been confirmed as:
• Helen Welford – Assistant Curator at the Middlesbrough Institute of Modern Art
• Stuart Cameron – Director of Crescent Arts, Scarborough.
• Alan Hunt – World renowned professional artist
• Fiona Duncan – Art Appreciator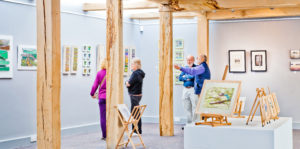 Exhibition
Successful entrants will have their work displayed as part of the Award exhibition at the Inspired by… gallery, Danby, from Saturday 3 August to Monday 2 September.
A first and second prize of £500 and £250 will be awarded for the judges' two favourite pieces, and a further two awards of £250 will be presented for the works of art voted as most popular by the public and by official supporters of Inspired by… gallery.
Innovative work
Whilst the Award is an opportunity for artists to create new, innovative work, entry conditions will permit paintings (of any paint media), created since January 2018 that have not been exhibited elsewhere.
Rich measures
Photographer Joe Cornish, a Trustee of the North York Moors National Park Trust, said "What the North York Moors may lack in height, it makes up in other rich measures such as, texture, colour, weather, sense of space, history, and the extreme expressions of seasonal change. Whether abstract or descriptive, the area is a source of endless, dynamic potential for the artist who sees landscape as analogous for the human soul."
"We call on all artists to participate in the first art award for the North York Moors, and to translate this unique landscape through the lens of their imagination."
For further information on how to enter, please visit www.northyorkmoorstrust.uk.