Creative make-up students from Stockton Riverside College are using messages about climate change in their end of year show after being inspired by working at last year's Festival of Thrift.
The talented team from the college's Level 3 UAL Production and Performing Arts Make-up course, who did the make-up for the catwalk models at the Festival's Oxglam fashion show, have called their show 'What on Earth'.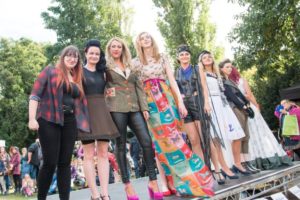 Plastic pollution
As part of their event on May 7, groups will create make-up effects to reflect the issues of plastic pollution, human over-population and looking after the planet.
The green theme is the result of the time the students spent at the Festival of Thrift, the UK's national celebration of sustainable living, Production Arts lecturer Nina Harper said.
"They absolutely loved it. It definitely got the message about sustainability across to them."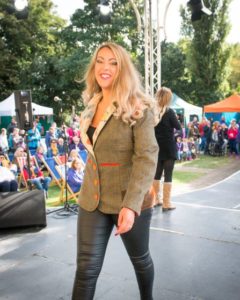 She added that the themes also reflect the challenges that professional make-up artists face and the range of creative and artistic skills they are required to use.
"It's far more complicated than it looks on Instagram. The students have to learn how to interpret a wide range of themes, understand the audience and the occasion and respond to the clothes, setting and lighting.
"They also have to consider hygiene issues as well as maintaining a professional demeanour and observing on-set etiquette.
"They are incredibly informed and clever students who leave the course with an impressive and varied skill-set and most progress onto specialist university-level make-up courses."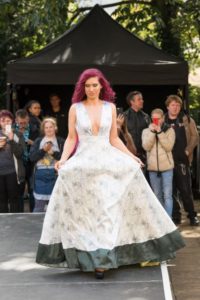 Artistic directors
Former students from the Stockton Riverside College course have gone on to careers as artistic directors for leading make-up brands, including NARS, as well as working on TV and film sets on a wide range of productions that include Coronation Street.
Nina added that the backstage Oxglam catwalk work at the Festival of Thrift, and being involved in transforming volunteers into war-scarred soldiers as part of the Festival's Atonement Redux filming on Redcar beach, was invaluable for the students.
"It was an amazing opportunity to work on a live brief and gave them experience that money can't buy. It was also great fun."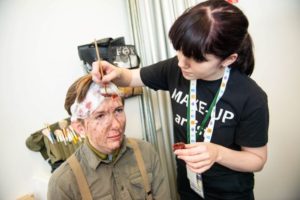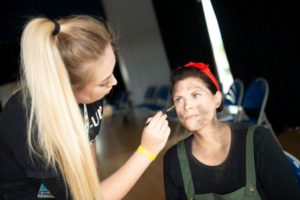 Throw-away culture
Beyond what the students learned at the Festival about ways to counter the throw-away culture, Nina notes that the make-up industry is also adopting more environmentally-friendly practices.
"There is a move to ban the use of plastic-stemmed cotton buds and to reuse, adapt, modify and recycle products wherever possible. Using vegan products is also an increasingly common request by actors and models."
The make-up students are returning to support the Oxglam fashion show again at the seventh Festival of Thrift, which takes place on Saturday 14 and Sunday 15 September at Kirkleatham near Redcar.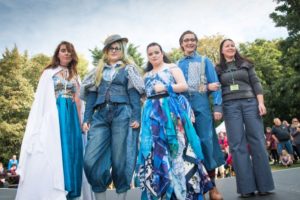 Impressive skills and talent
Festival of Thrift director Stella Hall said: "The students' impressive skills and talent really added to the professionalism of this year's Oxglam show and it was wonderful to be able to provide the opportunity and experience for them.
"It's fabulous that they were inspired by the Festival to base the end of year showcase of their work on themes of sustainability. Global Recycling Day recently put the focus on reducing the impact of waste and it is vital that important messages highlighting the need for action to protect the environment and for us to live more sustainably keep being spread as widely and by as many people as possible."
Keep up to date with news about this year's Festival of Thrift.
Find out more about the Level 3 UAL Production and Performing Arts Make-up course at Stockton Riverside College.