'Briefs' is a new sitcom, based in Redcar, which details the life and times of a small high street legal practice.
It's written and created by Redcar born and bred, Teresa Taylor. Teresa tells us more – "Briefs focuses on the personal circumstances of the individuals who work in the firm, together with their clients and the ridiculous situations that they get themselves into, rather than looking at the legal side of things. We barely set foot into a court room!"
"All the characters are relatable and have fab stories to tell. There is some sadness and real drama, but everything ultimately leads back to comedy. Gordon Turton Swallows, the senior partner in the firm tends to take himself far too seriously but hasn't really got a clue about anything. His privileged background has sadly marked its limitations and we see Gordon struggle to fit into the modern world. The only thing remotely 'PC' in Gordon's universe is his desktop computer, if he can ever work out how to use it".
"Gordon is played by North East actor Rob Kirtley who is a familiar face of the 'wash your hands' campaign and appeared recently in the film 'Morelands Firm', filmed in Newcastle.
Gordons character contrasts with Martin, the quiet fee earner who shares his office with a goldfish. We have a brilliant cast including Billy Doherty who played Mark Thackeray, a returning character in Coronation Street".
Like for many organisations, particularly in the cultural sector, 2019 has been tough for Teresa and the team; she says, "The last 7 months have been really challenging. We started filming back in January but had to stand the production down in March because of COVID 19. Prior to standing down, we had managed to film enough for a fantastic trailer, which you can see on our Facebook page @BriefsSitcom".
"A consequence of COVID 19 is that we haven't been able to secure a commission for Briefs, which was our initial plan. Many commissioners had been furloughed and there has been a reluctance to commission new material in the current climate and uncertainty. We have therefore taken the initiative and are now producing this independently under 'Taylor Walker Films'. The plan is to complete the entire first series and get it onto a streaming platform such as Amazon Prime. We hope to release in Autumn 2021. It's a glimmer of hope for our lovely crew and committed actors. We all have a lot of energy and drive to push this forward and make it happen.
The industry, as many others, has been badly hit and we are seeking to create our own opportunity. We have a fabulous cast now of 20 strong, together with highly skilled crew and production team, all working incredibly hard and currently without pay. Many of us are from Redcar and the surrounding areas of the North East. We hope to champion the area and show what we can do"
On a personal level, Teresa is very proud of her roots –
"I love Redcar, it's my hometown, I was born and raised here and it's where my family all still live. It was important for me to bring this sitcom home and I feel massively proud to base it in the town.

Everything that has ever been good for me has been born out of Redcar and I feel I owe it a great deal. I want to give a clear message to the young people of the town – it's important to chase your dreams, work hard and create your own opportunities. Redcar is a beautiful place and I wanted to capture this on film so that we can showcase our area".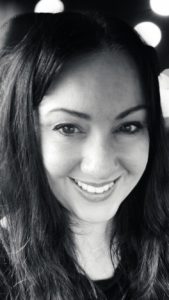 "Whilst the main location is based in a solicitor's office, we have to date filmed at South Gare and have captured the stunning stretch of sand beyond the Majuba car park looking out to British Steel. I hope to include the Coast Road, Fisherman's square and the boats amongst other locations".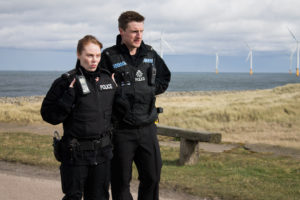 In order to help this dream along, Teresa is hoping for support from the local community – "Firstly, thank you to everyone who has supported us so far. We have 3,000 followers on our Facebook page and every share of our page and new follower will make all the difference. We are going alone on this but with your support we can make it happen. A big thank you to people who have donated or sponsored so far – every little donation counts".
"We're going to start a fundraising campaign in the next couple of weeks through 'Indiegogo'. Please keep an eye out and share this for us or donate if you can. We also hope to get support from local business wherever possible. There are some brilliant perks we can offer to sponsors, including features in an episode or executive producer status credits. Please do get in touch if you can assist in any way".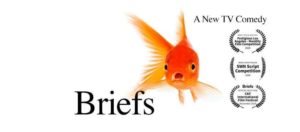 You can get in touch with Teresa at taylorwalkerfilms@gmail.com. For more information visit the 'Briefs' Facebook page – facebook.com/BriefsSitcom
Teresa is a guest speaker at our online 'Made in Redcar and Cleveland' Ambassador event on Tuesday 3 November – to book your place please email ambassadors@redcar-cleveland.gov.uk