A local fish and chip shop has become the 150th member of a group of companies and individuals committed to furthering Redcar and Cleveland as a great place to live, enjoy and do business.
Oliver's, a fish and chip shop and restaurant in Redcar town centre, is owned by husband and wife team Michael and Helen Roberts.
Named after their son Oliver and not, as many mistakenly believe, owned by TV chef Jamie Oliver, the thriving business has become the 150th Redcar | Cleveland Ambassador.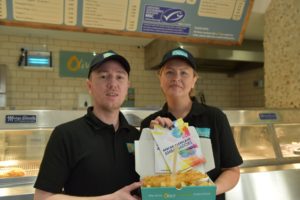 Michael, 41, said: "Helen found out about the Ambassador scheme and I went along to an event in Wilton to get an idea what it was all about.
"We want to promote the area. Everyone has to play their part and pull the same way. We can't wait for anyone else to solve our problems for us."
Sales force
The Redcar | Cleveland Ambassadors programme is a network of companies, organisations and groups, large and small, who are all committed to helping the borough develop its economy, increase employment and create the greater demand for housing, restaurants and leisure activities that disposable income generates.
The Ambassadors will act as a sale force and 'talk up' the borough and encourage inward-investment to create demand for new housing and generate increased retail spend.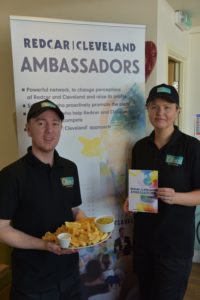 Confidence
Oliver's has been running since 2011, initially operating a takeaway and restaurant from the same unit.
In 2015, in a great display of confidence in their business and the trading conditions in Redcar, the couple expanded their business by taking on a second unit to act as the takeaway, and converted their initial base to permanent restaurant.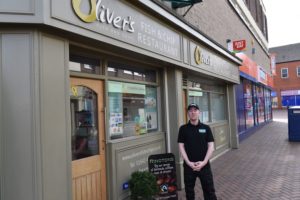 Making things better
Helen, 40, said: "It's not just us. You can see more businesses spending money and making things look better. You try to calculate as best you can and spend what's right for your business."
Frans Calje, Chief Executive of PD Ports and Chair of the Redcar | Cleveland Ambassadors, said: "I'm delighted to welcome Oliver's as the 150th Ambassador.
"It's great to hit this milestone, particularly with a business that is so synonymous with Redcar: fish and chips are a big part of our identity."
Join us!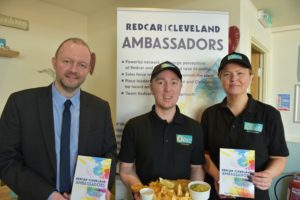 Redcar | Cleveland Ambassador marketing manager, Richard Baker, (pictured above with Michael and Helen) said: "We're really happy to welcome Oliver's and are always looking to recruit more people and businesses to join us and promote the borough.  We don't ask for a much – in fact it's free of charge. We just after a little time and commitment to 'talk up' the borough as a great place to live, enjoy and do business. If you think you can be part of this growing movement, visit our sign up page and get involved!"