Creative businesses based at the Palace Hub in Redcar have come together to help each other during the pandemic. Growing businesses like Natalie Futo's fashion enterprise, Lielle Womenswear, have shared how they're coming out of lockdown bubbles to support each other online.
Natalie (below), 28 from Redcar, who hires a space within the Palace Hub with her sister and business partner Danielle, explained: "We love to collaborate with other like-minded businesses and with the current situation impacting us all, it's good to come together and support and help each other during these unprecedented times."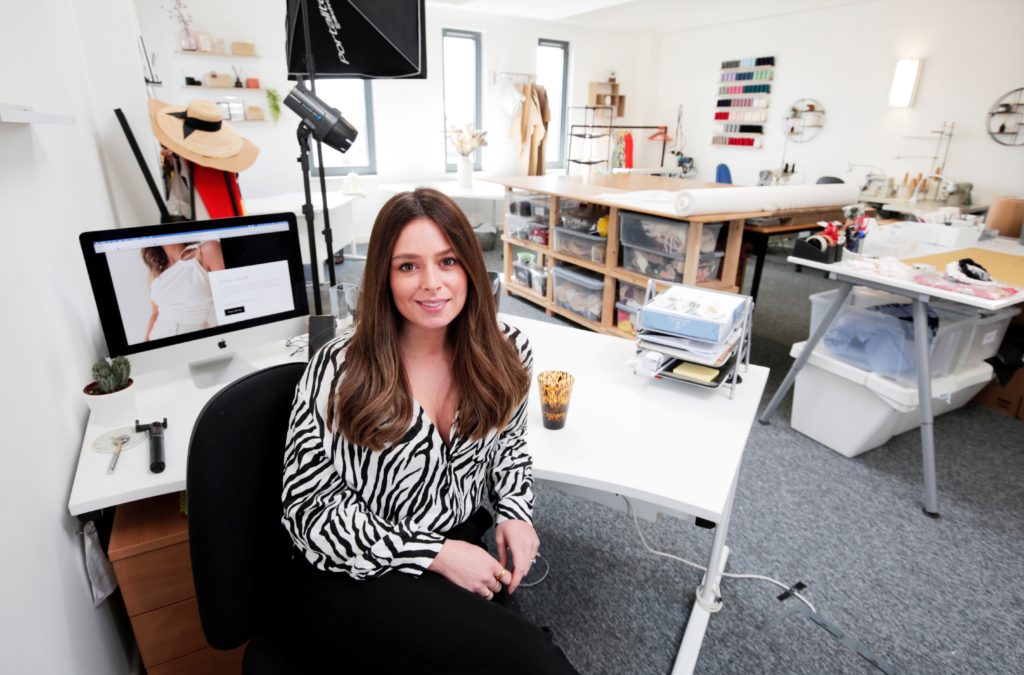 The environment of the Palace Hub was specifically designed for the diverse needs of the creative sector with spaces for working, networking, collaborating, meeting and ideas-making. Since lockdown, and whilst sticking to social-distancing rules, businesses within the hub have collaborated on projects and got to know each other better.
"We are very much about working together and helping other businesses where we can. Our business uses social media heavily, so we have offered advice to other businesses within The Hub to increase their engagement online which is so important right now. We've shared our knowledge that we've learnt over the years. One business needed a photographer and some models for a project they were working on, so we gave them our contact."
Natalie's fashion label sells products worldwide, but everything at Lielle is designed and manufactured in-house within The Hub, meaning seamstresses in Redcar are hired by Lielle to create the designs. "We decided to set up a Facebook page called 'The Palace Hub Creatives' to better connect everybody in the building and beyond," Natalie explained. "The building is filled with other creative businesses, so once restrictions allow, we are going to set up a monthly coffee morning where all Hub business owners can attend and chat all things business together."
"We absolutely love it at the Palace Hub. We relocated here during Lockdown and it's the perfect space for our business. It offers a clean, professional working environment with a central location, it has everything we need. On warmer days, we park at the Stray and walk down to the office, which is lovely." Currently, the Palace Hub is 86% occupied with businesses of all shapes and sizes.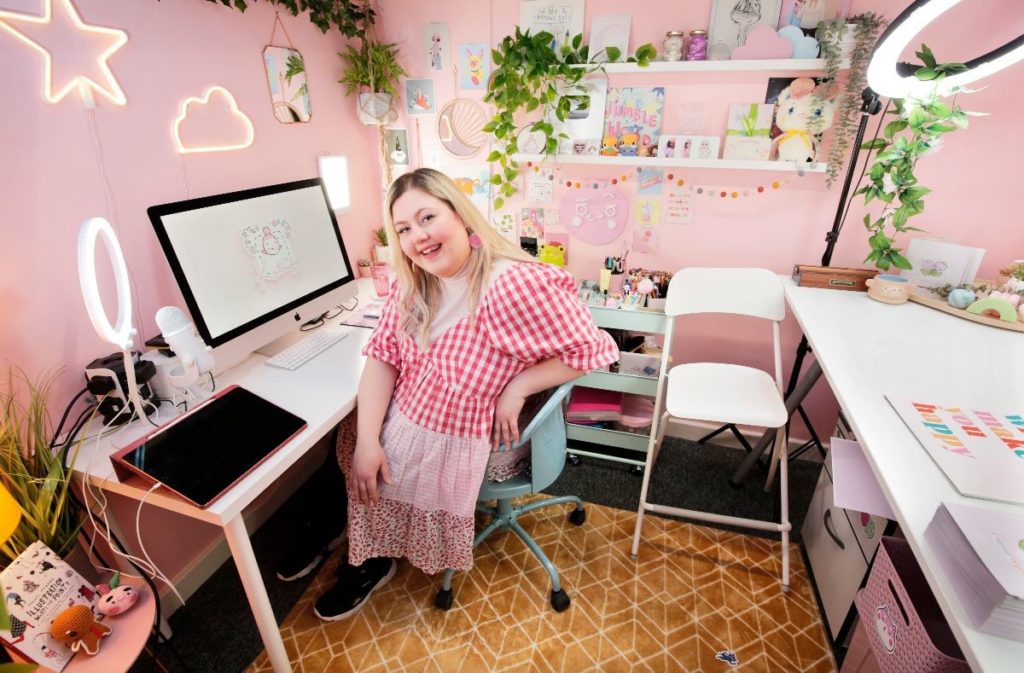 Another business owner based at the hub is illustrator and YouTuber Catherine Kay (above), 29 from Redcar, who has been growing her business from her humble beginnings in her bedroom. Initially worried about the effect lockdown was having on small businesses, she adapted and grew her e-commerce store to what her customers wanted during the time.
"We have noticed people's shopping habits have changed since we have been in lockdown. I feel very fortunate and extremely lucky that we had an e-commerce business in place." She explained. "If anything good has come out of lockdown it's that people trust the online market a little more now, which is a wonderful place for connecting small artists, craftsmen and small family-run businesses like ours – not just in the North East but across the whole of the UK and even the rest of the world!"
Catherine runs two businesses from her sea view studio room in the Palace Hub, Katnipp and Babybluu. Katnipp is an illustration business which sells a range of prints and pins, and Babybluu sells art and keepsakes for expecting parents. Building an online fantasy world filled with cute characters & merchandise, Catherine has even built a small cottage inside her studio, and has been documenting her business journey since working in her bedroom to her recent move into the Palace Hub over on her YouTube channel.
"After renting a small place in Marske, I decided to move to the Palace Hub which was affordable, and we initially rented smaller room. We quickly expanded the businesses and decided to hire a much larger room which has a beautiful sea view." said Catherine.
"It's a really collaborative environment at the Palace Hub. We're making genuine connections, and businesses are helping each other. No one knows what goes on here, and we want to spread the word." The Palace Hub is the home for the creative digital sector in Redcar and Cleveland, providing state of the art facilities to the emerging innovators and creatives of the region.
For more on the The Palace HUB Creatives, you can follow their Facebook page: HERE.