It's been a record breaking year for Redcar and Cleveland's Duke of Edinburgh (DofE) Awards team.
Almost 400 youngsters from the borough received Duke of Edinburgh awards, with 29 of them receiving the prestigious Gold award.
That's a record and an increase of 60 who received awards in 2018 and 14 who achieved gold. The team already has 37 taking up their Gold award next year.
Prince Edward
A total of 16 out of the 29 students who received their gold award travelled to Buckingham palace to collect their certificates from HRH Earl of Wessex, Prince Edward.
Elaine Buckby, the Council's Awards and Activities Coordinator, said: "We try to provide as supportive an environment as possible and it's great that more and more of our young people are taking part. It was a wonderful day at Buckingham Palace that they'll never forget."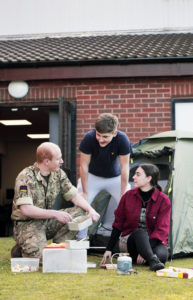 Captain Callum Pearce
The young people have been inspired by Captain Callum Pearce of Saltburn who once participated in the Duke of Edinburgh scheme himself and who also presented the coveted gold awards to young people at a special ceremony in the borough. Captain Pearce, 29, has also given up his time to discuss his role in the Royal Army Medical Corps to the young people of Skelton partaking in the DofE on a number of occasions.
Cpt Pearce explained how two of his friends, Ben Ireland and Simon Wild, who he met on the DofE scheme, were similarly inspired to pursue a highly successful life in the military. Ben Ireland joined the RAF and currently serves with the Red Arrows, whilst Simon Wild went to join the Royal Navy and was the first sailor to take part in the changing of the guard in front of the Queen.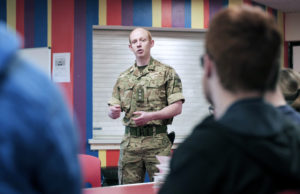 Elaine Buckby said: "We're a bit like a family here and when you hear Callum inspire our young people or see someone like Ben with the Red Arrows or Simon on the TV in front of the Queen you just want to burse with pride."
Admiration
Redcar & Cleveland Borough Council's Cabinet member for Children, Councillor Alison Barnes, said: "Congratulations to everyone involved in these awards. I would like to thank each person in the team and especially people like Cpt Pearce who give up their own time to inspire these youngsters. It's a great achievement to get the Gold award and I am full of admiration for anyone who accomplishes it. The Duke of Edinburgh Awards project is a great way to build confidence, resilience and skills. The fact that more and more of our young people are taking part in it is very encouraging."
Further information
To find our more about the Duke of Edinburgh Awards in Redcar and Cleveland contact elaine.buckby@redcar-cleveland.gov.uk or phone 01287 634332.