Redcar based Ambassador and managing director Joanna Andrews is beginning to rebuild her career after the Covid-19 lockdown in March instantly wiped out all the work in her production company's diary for the rest of the year.
Joanna already has an impressive stage & screen CV, including TV & film appearances in Call the Midwife, Poirot and The Lady in the Van.
However, a major knee injury and pressing family commitments forced her to reassess her future plans, and she moved back to Redcar from Kent three years ago to become the main carer for her disabled mum, Trish.
Happily settled back home in Redcar, Joanna founded Charm Productions, a vintage themed production company including the 1920's-based Isabelle Mumford Mysteries, The Lipsticks, a female rock n' roll trio of sassy vintage songbirds, and The Jersey Dreamboats, a combined tribute to west end hits The Jersey Boys and Dreamboats & Petticoats.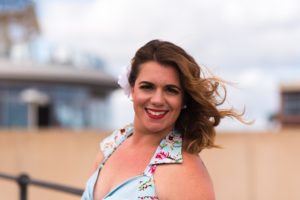 Three years later, Joanna currently has over 40 freelance actors on her books across the country, and has produced and performed at events in an impressive range of venues across Teesside, the North East and North Yorkshire.
But, like many others in the creative industries, all that came to a sudden halt when the pandemic struck – wiping out more than 50 events in Joanna's diary for the rest of 2020.
"It's been an incredibly tough six months," said Joanna. "It's difficult to describe just how hard it has actually been to watch my business essentially close overnight without qualifying for any of the government grants.
"However, although it's been tough to stay positive, especially when the future has been so uncertain for the entertainment industry, it's been encouraging to see how many of our venues and clients have just postponed their events to next year instead of cancelling altogether."
Now, after producing a series of online videos with The Lipsticks over the summer, Joanna is beginning to rebuild a new creative future – with two new Isabelle Mumford murder mystery evenings already confirmed for Brockley Hall in Saltburn on 31 October and The Raithwaite Estate near Whitby on 1 November.
And, with both The Lipsticks and The Jersey Dreamboats busily rehearsing over social media, Joanna is now looking for potential new venues and opportunities for a mix of new online and socially safe public events into 2021 and beyond.
Joanna said: "Theatre, hospitality and the creative industries were pretty much the first to close, and will likely be the last to fully reopen. But our audiences have been fantastic, and we've been overwhelmed with messages of support from people who are looking forward to seeing us again.
"It's been an awful time for venues and people who've had to cancel events, a heart-breaking time. But one of the proudest things for me is the way everyone involved in Charm has rallied around and is determined to bounce back. It's a waiting game, but we'll be ready!"
Looking forward to the future, Joanna said: "The Lipsticks have produced a series of Youtube videos – the audiences have been very supportive and we'll be looking to do more over the coming months – and we're all really looking forward to the two Miss Mumford mystery nights this autumn.
"We've spent such a long time building a fantastic audience for what we do, and it would be such a shame to lose it now. But, we're as determined as it's humanly possible to be, and we can't wait to get the 2021 diary up and running again. We're ready and raring to get back on stage!"
For further information visit Charm Productions UK on Facebook.
Images by Mick Merriott Photography.