Saltburn's famous pier will celebrate its 150th birthday this year.
A special celebration will take place on Saturday 11 May, aiming to have 150 people along the popular pier and promenade in Victorian costume. And the organisers of the party are asking for the public's help.
With family entertainment and fun throughout the day, the celebration will end with the unveiling of a new lighting scheme for the pier and nearby Cliff Tramway.
Victorian dress
If there's one thing that will get people talking it's the appearance of 150 people in Victorian dress. Greeting the crowds and posing for photographs, the volunteers will give people a feel of what it will have been like to enjoy the pier when it first opened in 1869.
The Saltburn Neighbourhood Action Partnership, organising the event with Redcar & Cleveland Borough Council, is appealing for volunteers to take part in the Victorian celebration.
Big crowd
Dawn Rowley, from Saltburn Neighbourhood Action Partnership, said: "We're asking for anyone with appropriate Victorian–style costumes to come along and enjoy the day with us.
"We're expecting big crowds and lots of fun. I'd warn the volunteers to be prepared to have their photo taken a lot during the day!
"The whole day will be great fun and the new lighting will be stunning – it's going to give Saltburn the shine it deserves."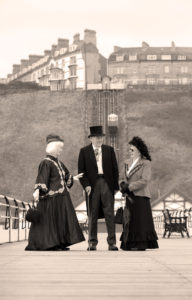 Anyone wishing to take part in the Victorian celebration of Saltburn Pier's 150th anniversary can contact Dawn Rowley at: saltburnpier150@gmail.com
Dawn added: "We're all working hard to deliver this event, so I'd like to thank Bill Reay from Saltburn Neighbourhood Action Partnership, the many businesses and Councillors Carl Quartermain, Bob Norton, Philip Thomson, Craig Hannaway and Stuart Smith for their valuable contribution."