"RATHER manic' is the understated assessment from the owner of a popular Saltburn store which has benefitted from Redcar & Cleveland Borough Council's High Street Support Scheme as she prepares for both the final Christmas rush and impending motherhood.
Lillian Daph, based on Station Road, has been open for business selling high quality interior goods, including furniture, lighting, soft furnishings and home accessories since 2016. Named after owner Christina Easton's beloved pet dogs, Spaniel Lillian and Labrador Daphne, the shop now employs three people and recently expanded to include online retail via its new website.
Christina wanted a window, bricked up by a former tenant, back in place to allow more light in the unit and recreate how the shop would have previously looked. The Council's High Street Support Scheme provided £955, in turn matched by Christina, to remove the brickwork and install the new window.
Funding
Christina, who is expecting her first baby just before Christmas with husband Craig, said: "The High Street Support scheme is amazing. We wouldn't have put the window back without the funding.
"It's changed the whole feel of the shop. We get more light on the afternoons and natural light makes our displays look even better.
"I'd encourage any local business to look into it and see what help is available. It's worth your time for sure."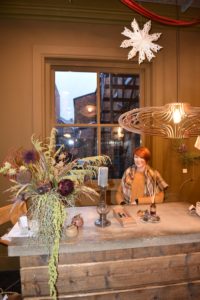 Commenting on the Christmas trade, Christina, said: "Christmas has been great.
"The shop's busy and the online sales are really taking off. That's new to us, taking online orders, packaging and sending them out, but we've been learning as we go. All that while getting ready for our baby to be born in a few days.
"It's been rather manic really!"
Hard working entrepreneur
Councillor Bob Norton, Redcar & Cleveland Borough Council's Cabinet Member for Economic Growth, said: "Stores run by hard working entrepreneurs like Christina are the lifeblood of our town centres.
"By offering a helping hand we can play a part developing existing stores and attracting new businesses to trade in our town centres.
"But what we really need is the support of our residents and visitors to get out and shop local. We all want our local town centres to thrive and the only way to do that is to use them."
The High Street Support scheme provides match-funded financing for:
• shop frontage works
• fittings for existing businesses such as service counters and waiting areas etc
• improve security
• enhance to upper floors to bring them back into business use
• provide financial support for new businesses to bring vacant units back into use.
For further information about the High Street Support scheme, call the Council on 01642 444494 or email: placeinvestment@redcar-cleveland.gov.uk.
For more information about Lillian Daph, visit: www.lilliandaph.co.uk.