Around 150 people gathered at the wonderful new Redcar and Cleveland venue, Kirkleatham Walled Garden, earlier this month for the first-ever 'Redcar | Cleveland Ambassador Showcase'.
The event, for Redcar | Cleveland Ambassadors, was the first 'physical' event to take place since the start of the pandemic, and delegates pointed out how great it was to see people face to face!
"After months of being unable to 'feel' the energy and optimism of our business community in Redcar and Cleveland, it was a real tonic to meet existing and new colleagues amidst such lovely premises and surroundings. More events like this will raise spirits and create further confidence in our area" – Lynn Mitchell, Approach Development Ltd.
Exhibiting opportunity
Around 30 organisations took exhibition space at the event, giving them the opportunity to really showcase what they do. Feedback from these organisations has been positive; with all exhibitors who have responded to a survey saying that they would book space again at a future event.
"Being an exhibitor at the Ambassador Showcase was a great opportunity to share the story of the East Cleveland Scarecrow Festival with other community groups and businesses. Many groups were keen to join in and businesses were keen to support it". Denise Nesbitt, Co-Ordinator East Cleveland Scarecrow Festival
A warm and positive welcome
The Chair of the Redcar | Cleveland Place Board, Darren Winter welcomed delegates and outlined the purpose of the event and what was in store. Darren was followed onto the stage by the Freeport Director from Tees Valley Combined Authority, Nolan Gray.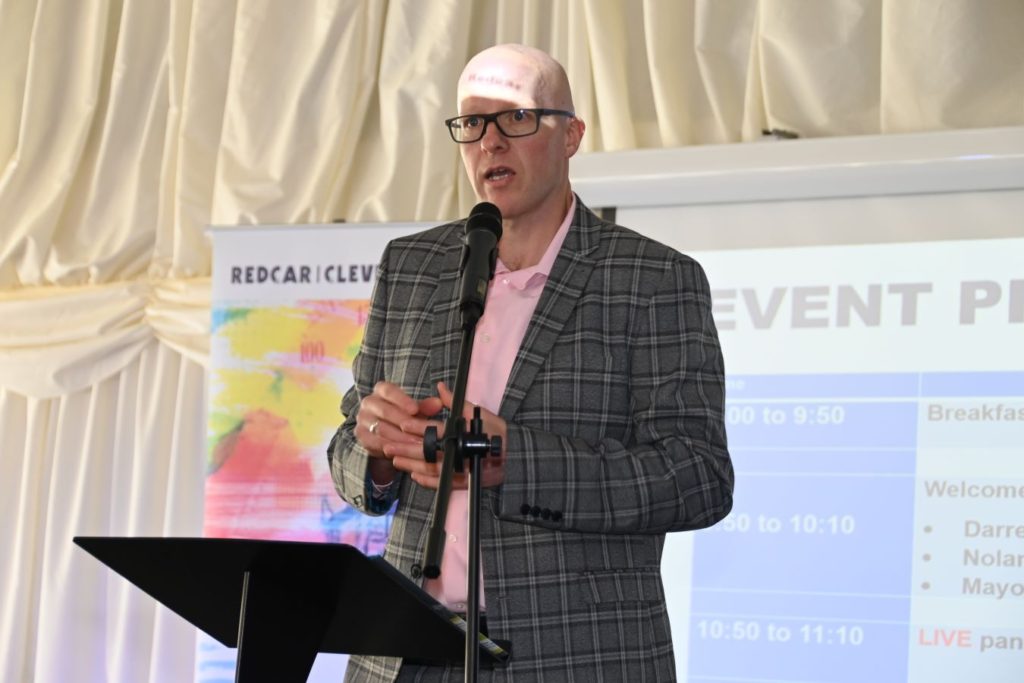 Nolan gave an overview of what the Teesside Freeport is all about; emphasising the opportunities that the UK's largest Freeport will have for Redcar and Cleveland and the wider region.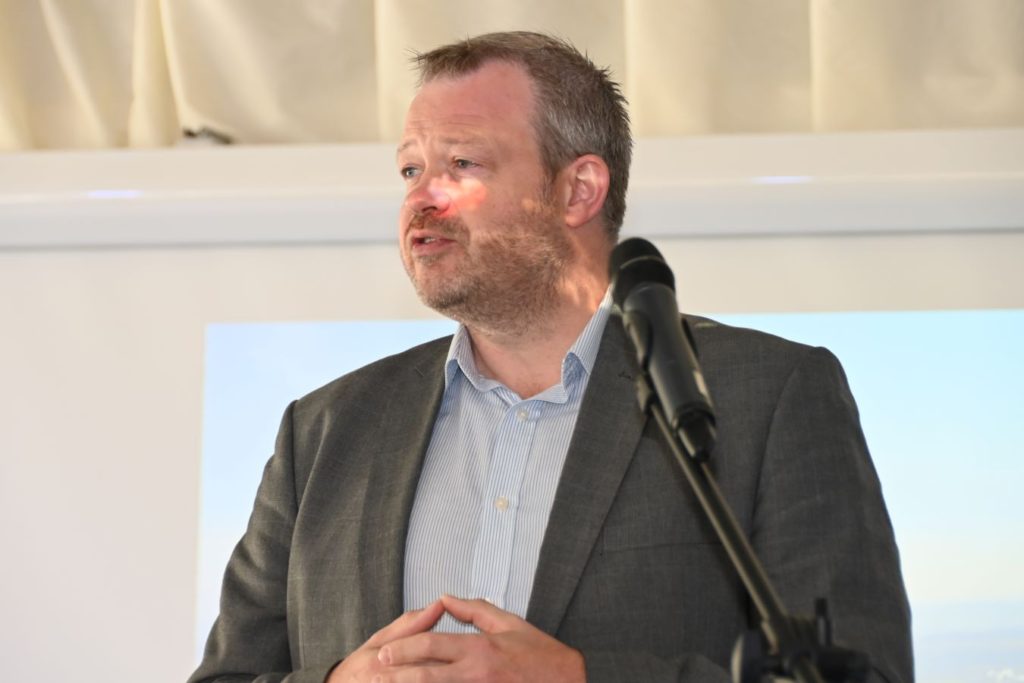 The event was then officially opened by the Mayor of Redcar and Cleveland, Carole Morgan. The Mayor spoke about the benefits of the Ambassador scheme, in what is a very exciting time for Redcar and Cleveland, with so much major investment happening.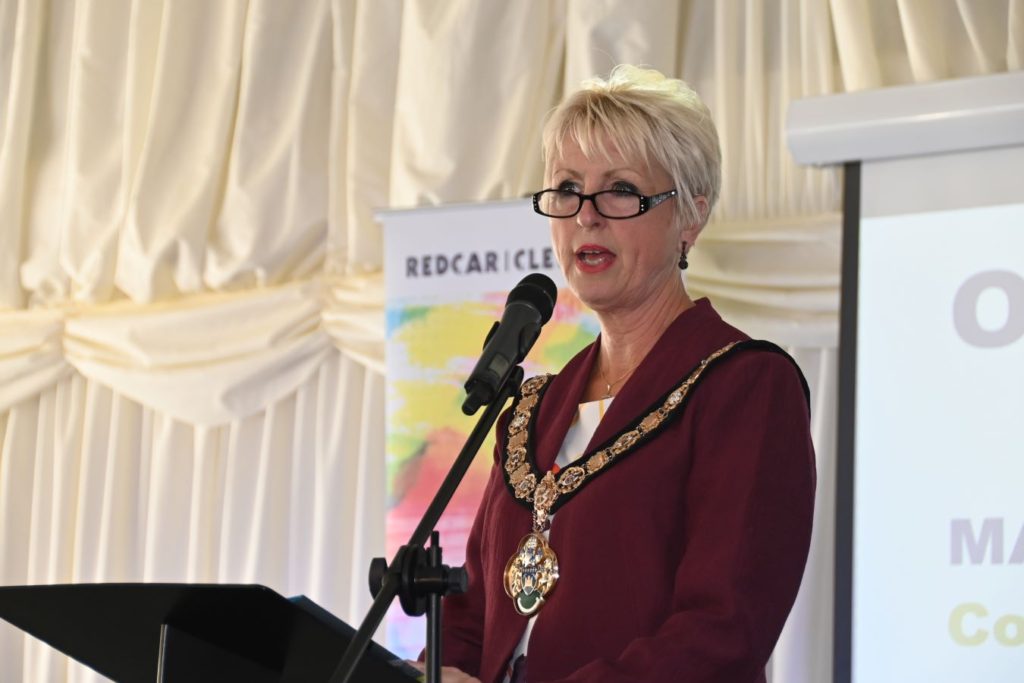 PANEL PRESENTATIONS
Throughout the event, three panel presentations took place, covering the main elements of the place marketing initiative, of Redcar and Cleveland being a great place to – LIVE, ENJOY and do BUSINESS. The panel sessions were hosted by Zetland FM presenter, John Clayton. John asked a series of questions to panellists – and delegates listened attentively to some fantastic answers, many from the heart, reflecting the panellist's personal experiences.
LIVE panel
First up, the LIVE panel talked about why Redcar and Cleveland is a great place to live! Beth Hodgson who runs 'Beth Hodgson RCAB' spoke about her experiences of the amazing coastal life in our place, and of the wonderful local businesses that residents of Redcar and Cleveland can enjoy.
Bianca Robinson, CEO of 'CEO Sleepout' spoke from the heart about the sense of community in Redcar and Cleveland, and told her incredible story of moving here from New Zealand, and how she has never looked back!
Jason Faulkner, Principal of Redcar & Cleveland College spoke about the opportunities and bright future that exists for young people in Redcar and Cleveland, giving the example of how Redcar & Cleveland College is continually striving to offer the right courses to meet the needs of students and local businesses.
Finally, Rosie Du Rose, Chief Executive of Beyond Housing spoke of the varied housing offer in Redcar and Cleveland and gave her view on why choosing to live in Redcar & Cleveland is good thing to do!
ENJOY panel
Next, the ENJOY panel. With its incredible coastline, beautiful open spaces, wide selection of activities and events, Redcar and Cleveland is a fantastic place to enjoy – the panellists spoke about these things and more.
Ruairidh Taylor, Hotel Manager of Gisborough Hall Hotel spoke about the selection of accommodation on offer for visitors, and of the positive plans for the hotel.
Amy Fair, General Manager at Redcar Racecourse spoke about the array of events which take place in Redcar and Cleveland – and the benefit that they bring to the place, supporting many local businesses, through increased footfall. Amy also outlined plans for the Racecourse, and their proud position in the local community.
Julia Lumley, Senior Marketing Officer from Tees Valley Combined Authority gave an overview of where Redcar and Cleveland fits into their regional tourism promotions and plans. Julia outlined the particular importance of Redcar and Cleveland in terms of how 'Enjoy Tees Valley' promote the region's coast and countryside to visitors.
Finally, Laura Case, Head of Culture and Tourism at Redcar & Cleveland Council spoke of how the Council is working to develop the culture and tourism offer and how it's promoted. Laura spoke of plans which are currently being developed and will be finalised later in the year.
BUSINESS panel
Finally, the business panel. Panellists spoke of why Redcar and Cleveland is an excellent place to start, grow and invest in business. The panellists represented a wide range of business sizes.
Andy Koss, CEO UK & Middle East, at Sembcorp spoke about the excellent infrastructure that exists, and the exciting opportunities that the Freeport will bring to Redcar and Cleveland.  Andy also spoke about exciting plans around Sembcorp's new 'Zet Zero' power plant project – a great example of new local investment, job creation and decarbonisation.
Matt Parsons, GM External Affairs at Anglo American spoke of their major project happening at Teesport, Wilton site and Woodsmith mine site. Matt was keen to stress the importance of working closely with the local community and ensuring that local people are given opportunities to be employed on the project.
Kay Tarry, Owner of Sugar Noms spoke about the great support that she has received when setting up her two businesses, 'Sugar Noms' and 'Therapy with Kay'. Kay also recalled her positive experiences she's had both personally and professionally since she located to Redcar and Cleveland.
Finally, David Laing, owner of 'The Clucking Pig' spoke of the strong business networking opportunities that we have in Redcar and Cleveland, such as the ambassador programme and Redcar & Cleveland Business Network; and how he's proud to be part of the local business community.
Each of the panellists spoke with optimism about the future of their business, with reference to many exciting plans and opportunities on the horizon.
WALLED GARDEN ACCESS
All delegates received a free ticket to the wonderful Walled Garden, and many took the opportunity to pay a visit.
"We were delighted to attend and sponsor the first Redcar | Cleveland Ambassador Showcase. It was a delight to connect with so many like-minded people all working together for the greater good of the area and communities we live and work in. We are excited to see what opportunities such collaboration can bring in the future". Rosie Du Rose, Beyond Housing.
WRAPPING UP A GREAT EVENT
To close the event, Andrew Fulton, Vice Chair of Redcar | Cleveland Place Board thanked delegates, exhibitors and panellists for supporting the first Ambassador Showcase, and thanked the team who made the event possible.
Andrew spoke of the exciting opportunities which lie ahead for Redcar and Cleveland, with around £6 billion worth of investment happening; and emphasised that if we all work together, we can maximise the opportunity to 'beat the drum' for Redcar and Cleveland on the back of this huge investment and vote of confidence in the place.
Finally, Andrew spoke of the importance of us keeping the momentum going as ambassadors – continuing to tell our positive place story – about our assets, our community, the investments and our opportunities, and the place board and marketing team are continually looking at new ways to take this forward.
Some event feedback:
"What a lovely morning I had today! Beautiful venue, interesting speakers and a good range of stands/people to meet".
"Well done on a brilliant event. I very much enjoyed it from a 'delegate' point of view – made some really useful contacts and learned so much about the businesses/area as well"
"It was a great event and very well planned and a pleasure to be involved"
"Proud to be a part of Redcar and Cleveland. A good day had by all"
"It was a wonderful Showcase event, an excellent venue at the Kirkleatham Walled Garden and the best of Redcar & Cleveland all round"
"A brilliant event providing networking space for local business and residents and a great opportunity to celebrate the mighty Redcar community"
"A really great first Showcase – lots of energy and enthusiasm as well as the right amount of professionalism"
"Well organised and was great to see people in person and make new contacts"
"Just to say what a great event the R & C Ambassadors event was, including the venue, public speakers and catering. It was lovely hearing good positive stories about Redcar and Cleveland"
"Huge well done to the other panellists, some fantastic answers and memories shared. The event was excellent, I am super excited for the next one!"