A great piece of local history has been uncovered  –  the door that opened the way to TV stardom for legendary comedian Larry Grayson has been found.
Larry Grayson, a big star in the 1970s and 1980s, had a number of catchphrases but his most famous was "shut that door!"
The presenter of the BBC's Generation Game TV show came up with it while working at a Redcar seafront theatre which was later renamed The Regent and converted to a cinema.
Future secured
Now the door, which had been bricked up, has been uncovered as a result of health and safety work. The cinema has been closed since April last year for safety reasons after an inspection revealed structural faults but the future of the venue has now been secured as part of a wider £30 million investment plan for the borough.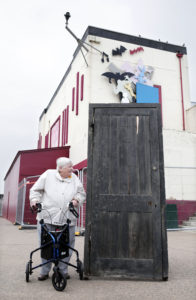 Shut that door!
"The story is Larry was working under a previous stage name, Billy Breen, in the summer season and the door, which opened directly to the beach, kept flying open," explained Neil Bates, who has managed The Regent for 26 years. "He just shouted 'shut that door!' and got a laugh and kept using it. It was an in-joke for the Redcar crowd, but it obviously worked elsewhere."
Mr Bates couldn't be sure it was the right door, but long-time friend of Grayson, Joyce Dowding, 96, who still lives in Redcar, confirmed it was.
Miss Dowding, who served in the NAAFI during the war, refers to Larry Grayson by his real name, Billy White. She said: "It must be the right door, because it was the one that opened on the beach. Billy was a regular at The Regent, or the Glasshouse as we called it. He used to lodge on Queen Street and would love walking along the promenade and meet people in the King's Café. He loved Redcar. He gave £10,000 to the RNLI, which I was involved with, for new doors and I got him to open a supported housing development when I moved there."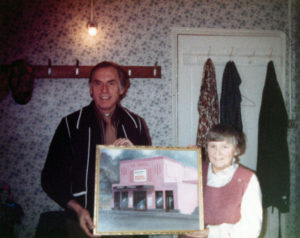 Larry Grayson
Miss Dowding, who served at Normandy and Belgium with the NAAFI at the end of the war, said her friendship with Larry Grayson lasted many decades. She even has a picture of him holding a painting of The Regent which was taken in his dressing room at The Palladium in London and has several treasured letters from him. She also attended his funeral.
She said: "He was more or the less the same off stage as on. He was just ordinary. He was very considerate of people. He was just Billy."
Miss Dowding also told several other stories about the legendary comedian's time in Redcar, and said Larry invented legendary comic character 'Slack Alice,' in the town. She added that 'Alice' was a well-known coal delivery woman in Redcar who sometimes sold fragmented coal, or 'slack.'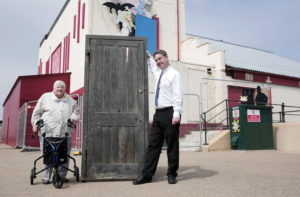 Councillor Carl Quartermain, Councillor for Culture, Tourism and Communications, said: "This is an amazing find – a real piece of entertainment history – and it's more great news for The Regent after the announcement that its future is guaranteed. I'm looking forward to the day that its doors are no longer shut but open for generations of movie lovers to come."
Other famous catchphrases by Larry Grayson included 'What a Gay Day!', 'Seems like a Nice Boy,' and 'Look at the Muck in Here.'
The door is being kept in storage and will be preserved.