Twelve months of community engagement and research will come to fruition on Friday 5 April when Steel Stories opens its doors to the public at Redcar's Kirkleatham Museum.
The interactive exhibition showcases real-life stories from local steel workers and features artefacts and photos putting visitors in the shoes of the workers whose toil shaped our industrial history.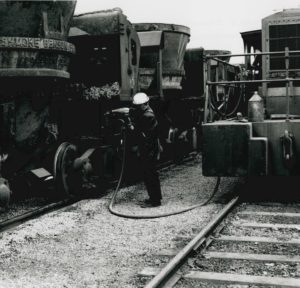 Highlights of Steel Stories include a recreation of a locker room, an historic timeline and archive show reels of films from years gone by.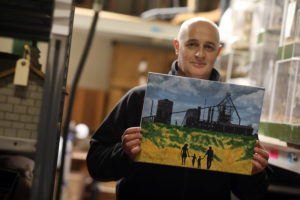 Amazing support
Leo Croft, Redcar & Cleveland Borough Council's Steel Stories Project Officer, said: "Over the past year we've had amazing support from local people who have taken the time to share their Steel Stories with us.
"Ex-steel workers and their families have told us some incredible stories and donated items, including a section of an iron pole used by the first women, Nancy Lewis, to light a foundry furnace back in 1942. Nancy brought the pole in herself and told us all about her experiences, describing working in the furnace as 'Hell's kitchen'.
"We've put together what we think is the museum's best exhibition yet. We've designed it to be informative and fun for both adults and children. It's interactive, noisy and will make for some brilliant photos. About the only thing we can't recreate is the heat from the furnaces!"
Vital role
Professor Natasha Vall, Associate Dean (Research & Innovation) in Teesside University's School of Social Sciences, Humanities & Law, added: "The University is delighted to have collaborated on the Steel Stories project, both through research expertise and student support and we are confident that the exhibition will play a vital role in helping to preserve and promote the region's industrial heritage.
"There are some truly inspirational and remarkable stories which have been uncovered and we are looking forward to bringing these to life and presenting them to the wider public."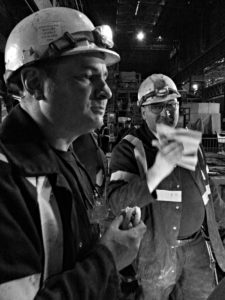 The exhibition is free of charge and will be on display at Kirkleatham Museum, Redcar, TS10 5NW until April 2020.
Steel Stories is directly funded by the Lottery Heritage Fund, the SSI Task Force: Legacy Projects and Tees Valley Museums. The Project is in direct partnership with Teesside University, and has received additional support from British Steel, Primetals, South Tees Development Corporation, North East Film Archive and Materials Processing Institute, as well as many groups and individuals as part of a wider Project steering group.