Former SSI worker Stephen Jackson has set up a successful business after 35 years in the steel industry.
Mr Jackson was 52 when SSI closed in 2015. With support from the SSI Task Force, he has built up his own successful household and waste removal business.
The grandfather set up Boro Removals six months after losing his job. Initially, he focused on house clearance but soon expanded into household, garage and garden waste removal and the business has been so successful he is considering taking the next step and moving into commercial waste disposal.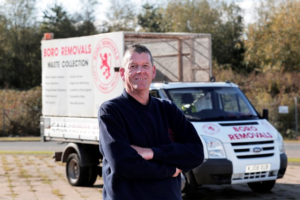 Mr Jackson, from Ormesby, who was a Senior Discharge Operator on slab 1 at SSI, explained that he started work straight from school aged 16 and never left. He said: "I'd never been out of work in 35 years. It was a big, big shock. When SSI closed I didn't know what to do. It just came to me one morning that I should do small removals. I thought it would be mainly small removals but I got more and more questions about dealing with waste."
Boro Removals has a Waste Carriers Licence and does house clearances, waste removal, single item and multi-item drops and garage and garden clearances.
Contact Boro Removals by emailing bororemovals@hotmail.com or calling 07931 217 465.