The Materials Processing Institute was delighted to host guests from across the Tees Valley yesterday evening at the inauguration of the latest artwork, 'Liquid Fire' commissioned by the Institute.
This artwork was commissioned as part of the Institute's societal and ethical mission which, as well as supporting industry by developing and commercialising technology, aims to have a positive social impact in the local community through economic development, education and art and culture.
This latest artwork was commissioned as part of the art and culture element of the societal and ethical mission of the Institute with the intention for it to be enjoyed by staff and the local community, while at the same time demonstrating the Institute's support for the local artists.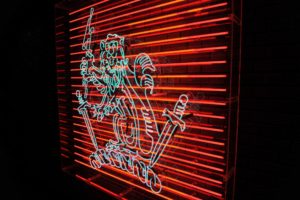 Artist Stuart Langley from Hartlepool, worked in collaboration with the Materials Processing Institute to design and realise a significant artwork which considers both the innovation role of the Institute and the physical qualities of neon as a material.
The process of combining a noble gas with high voltage in a flame worked tube shares a scientific approach in common with the Institute, making this project a fascinating marriage of artist, institute and material. The resulting artwork mesmerises the viewer as a captivating experience of light to echo the almost infinite exploration of materials, processes and application at the Institute.
Find out more about this artwork and how the Institute is seeking to create a social positive impact by linking to the speech given by Chris McDonald, CEO, Materials Processing Institute at the inauguration.