Businesses might have to look at different ways of working now, or even do something entirely different, and one of our Ambassadors has done just that.
Kay Tarry, of 'Therapy with Kay' has started a tasty new venture, 'Sugar Noms', providing 100% vegan sweet treats.
Kay explains how things started – "Sugar Noms started during lockdown after I found myself with more time on my hands. I've always loved being a therapist but suddenly found that working online and not having to commute, freed up lots of both physical and mental time to pursue a dream venture.  I'm happily managing this new business alongside my client work, it's the best of both worlds.
Since becoming vegan about 18 months ago I realised even though it was really easy to shop, cook and eat for a vegan lifestyle, sweet treats were still very difficult to find and usually a lot more expensive.  I really wanted to make it simpler, easier and cheaper to enjoy things like pick and mix and old favourites like fizzy cola bottles and giant strawbs, but totally cruelty free! I've sourced over 60 varieties of vegan, vegetarian and halal friendly sweets. There's also a gluten free and a palm oil free range too".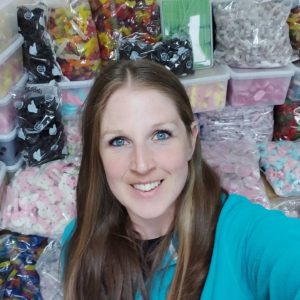 Sugar Noms have had a fantastic launch with a lot of interest coming from both local and national customers.  Kay says, "I had taken delivery of over 100kg of sweets last week thinking they'd last a good while, but now I've now had to order more! I have been working really hard behind the scenes to find suppliers locally and nationally and have vegan fudge being made especially for us, specialty chocolate is on it's way and of course more sweets!
I have made sure the business eco-credentials match the vegan ethos – even our mailing bags and address labels are plant-based and carbon neutral!"
Kay's plans for the future, once lockdown has totally lifted are to run a pick and mix stall at local food fairs and pop-up shops, as well as to carry on selling pouches and boxes online.
Supporting the new business, Kay has recently been successful in an application to the Santander Enterprise Seed Fund, which includes 12 months business support and marketing and digital workshops.
To find out more, visit www.sugarnoms.co.uk or check out their Facebook and Instagram profiles.