Festival of Thrift fever is starting to build with the announcement of some advance programme highlights including pollution dancers, the triumphant return of Cowcar, a band that was a big hit with visitors last year and plenty of opportunities to get involved.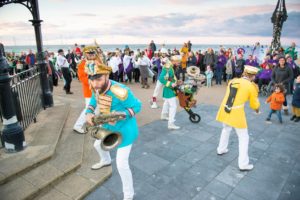 Mr Wilson's Second Liners, the brass band intriguingly billed as New Orleans meets 90s club classics, are back by popular demand for the seventh event on 14 and 15 September at Kirkleatham, near Redcar and will once again entertain festival-goers with their rousing and colourful promenade across the site on the Sunday.
Thrifty parade
To kick start the weekend, on Friday 13 September the festival will launch with a Thrifty parade, when a cohort of bikes will make its way from Kirkleatham Museum to join other parade participants to take Thrift through the heart of the town centre and along the sea front to finish at Tuned In.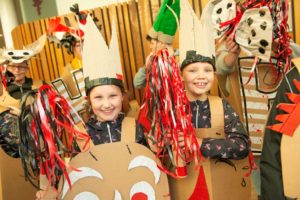 This year's parade is called 'A Breath of Fresh Air', in line with one of the event's themes for 2019 of clean air in the Tees Valley and the region's commitment to improving air quality for all who live there, work there and visit the area.
Joyful
Led by Stellar Projects, the procession will include a combination of local community groups, professional performers and musicians, including last year's popular Cowcar, to restate the highly topical warning of the dangers of methane emissions, and dancers wearing Kasia Molga's extraordinary Human Sensor costumes, which measure and reflect diesel emissions in the atmosphere. Festival of Thrift organisers are inviting anybody and everybody to take part to help set the weekend off to a joyful start.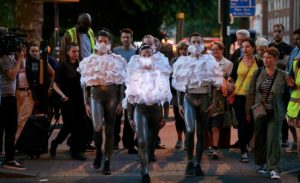 The other theme for the 2019 #thriftfest is the celebration of the anniversary of the moon landing and one of the Festival elements is an interactive re-imagining of the Moon Landing by Saltburn based creative artists Whippet Up which aims to immerse visitors in an out of this world experience.
Space
'Mission (out of) Control' will bring the excitement and optimism of space travel in the 1960s to the Festival of Thrift. Space attire will be created, astronauts will be trained and a four-stage rocket will be built, all accompanied by a soundtrack and performances especially created by the Festival's choir Phoenix Voices and vocal group Mouthful.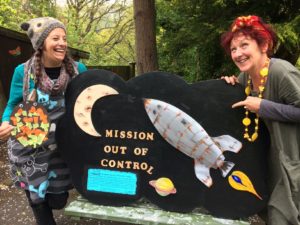 Fresh from Glastonbury and shifting the focus from the past to a future where we have forgotten how to move, parkour artists Urban Playground will bring their distinctive performance style, dancing at speed and height and incorporating David Attenborough's narrative, in a show called Zoo Humans.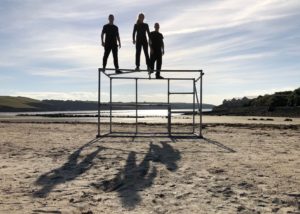 As they slowly become aware of the artificial world in which they're living, they must decide if they'll swap touch-screens for human contact and risk the comfort of their cage for the lure of the great outdoors and ask, what it will take to get us moving again, before it's too late.
Family adventure
An extra-terrestrial family adventure inspired by 'E.T.' & 'Stranger Things' called The Unknown will be presented by Manic Chord Theatre.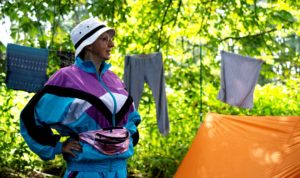 Parents and children will be transported to another world in a two-part tale, with accompanying downloadable alien app, featuring Amber, a tech savvy teen and her rather more traditional grandmother, Dawn who are onto something supernatural.
Live sustainably together
Festival of Thrift director, Stella Hall, said the themes for 2019 have been designed to offer new journeys of discovery into how we can live sustainably together through thought-provoking performances and the Festival's special mix of hands-on fun, food, music, and dance, together with a host of ethical traders.
"These highlights are just a fraction of what we have lined up this year. There's plenty more to come and, as ever, people can expect the unexpected at the Festival of Thrift," Stella added.
"We take huge pride in being a one-of-a-kind event with our packed celebration of sustainable living and we are promising another riot of ways to have fun at the festival this year."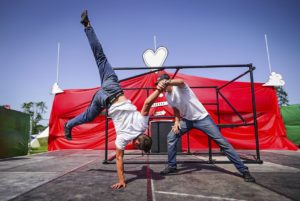 Saturday 14 and Sunday 15 September
The Festival of Thrift weekend takes place on Saturday 14 and Sunday 15 September 2019 at Kirkleatham, near Redcar. The Thrifty Parade to launch the festival weekend is on Friday 13 September and starts at 6.30pm.
Anybody wanting to get involved with the Thrifty launch parade can email lyndsey@stellar-projects.co.uk
Bookending the 2019 festival, from 12 – 19 September, is Viewpoints by Festival of Thrift a project which sees sculptures, installations and artworks displayed across the Tees Valley to prompt discussions about sustainability issues.
www.festivalofthrift.co.uk