The trail run, organised by local race experts Muddy Roads in partnership with Redcar and Cleveland Borough Council, takes in the picturesque surrounds of Kirkleatham woods via a route suitable for young people, beginners and experienced runners pushing for a personal best.
The Junction Foundation supports local children, young people and their families across the South Tees. The local charity, which offers support to Young Carers who provide care for family members, an emotional wellbeing service, social opportunities through CREATE youth services and support around employment and training, has signed up 22 of their young clients to take part in the run.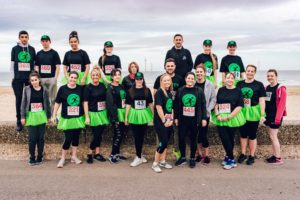 Run for Resilience
Eileen Cowle, Young Carers Services Co-ordinater for the Junction Foundation, said: "We have a project called Run for Resilience to help young, inactive people be more active and take part in sport.
"We got some funding from Sport England and we've been holding regular running sessions for a year. It's as much about improving mental health and wellbeing as well as physical health. Our young clients love it and even some of the staff have taken up running as well.
"We had a team in the Redcar Running Festival last year and they all had a great time. We've been looking for more local races to take part in and this one is perfect."
Difficult personal circumstances
Councillor Karen King, Deputy Leader for Redcar and Cleveland Borough Council, said: "Good luck to all the runners, especially those from The Junction Foundation.
"It's inspiring to see young people, some dealing with difficult personal circumstances, being supported so they can take charge of their own life. Taking part in a race like the Kirkleatham Woodland Family Fun Run will be a huge achievement.
"It shows resilience and determination and when they cross that finish line, they'll know they can succeed when they put their minds to it."
More information
The Kirkleatham Woodland 5km Family Fun Run takes place on Sunday 23 June 2019, 10am and costs £7 for adults and £5 for under-16s. To enter the race, visit the Muddy Roads website.
To find out more about the Junction Foundation, visit their website.