A father and son's plan to open up Saltburn's newest jewellery shop has been given a polish by Redcar & Cleveland Borough Council.
Benefitting from the Council's High Street Support Scheme and expert advice from the Business Growth Team, the Yorkshire Jewellery Company has just opened in Saltburn's thriving Station Square.
Whitby Jet
Owned and run by former welding inspector, Robert Metcalfe, and his retired engineer father, Roger, Yorkshire Jewellery Company specialises in manufacturing handmade jewellery. Primarily using local, sustainably sourced Whitby Jet, the talented duo also work with other semi-precious gemstones such as Amber and Derbyshire Blue John and some unusual recycled materials: Fordite and Bowlerite.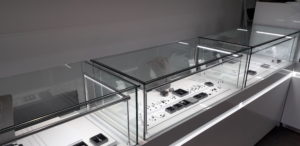 Roger said: "All our Whitby Jet is gathered by ourselves from the local shores that has been naturally washed into the sea.
"The Jet and other gemstones are then handcrafted in the workshop to create beautiful jewellery including pendants, rings, earrings, cufflinks, bracelets, bangles and so on."
Recycled materials
Explaining some of the unusual jewellery shoppers can choose from, Robert commented: "We use some really interesting, recycled materials.
"Fordite is a by-product of '60s and '70s car manufacturing in the US. It's a build-up of paint deposits, layer upon layer of paint drips that are constantly kiln dried until it sets solid.
"The multi-layered deposits are then processed in our workshops. When polished, it creates a unique variety of colours that look amazing when cut and set into our jewellery designs."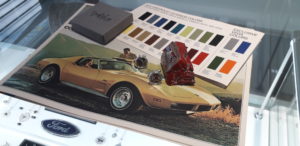 Robert continued: "We also make some interesting jewellery made from recycled bowling balls. The bowling balls we use have beautiful colours woven into them which makes some interesting, unique bowlerite  jewellery."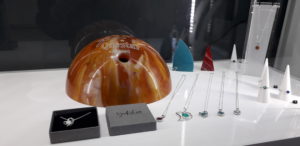 As well as high quality, hand-made jewellery, the shop also sells craft gins produced in Yorkshire.
High Street Scheme
With the support from the Council's High Street Scheme, alongside the Metcalfes' own investment, the Yorkshire Jewellery Company has benefitted from a high quality shop fit out.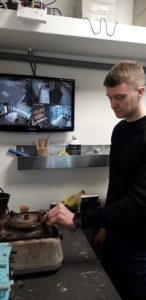 "We're very confident of our business' future here in Saltburn. Getting in touch with the Council for business support is a no brainer really", said Roger.
Supporting businesses
Margie Oliver, Redcar & Cleveland Borough Council's Business & Employment Growth Manager, commented: "The entire aim of our team is to support businesses in our borough.
"From start-ups like the Yorkshire Jewellery Company to multi-nationals, our team is on hand to offer support, give advice and source funding. We even help with recruitment if needed.
"Thriving businesses benefit the whole borough. They create jobs, takeover empty shop and business units, buy from other local firms, support other local shops. It allows people to buy homes and put down roots, it creates disposable income to support our bars and restaurants.
"We'll do everything we can to help businesses and it's brilliant to see Richard and Roger at this point. The shop looks amazing and I'm sure they'll prove to be a huge success."
Get in touch
To find out more about the Business Support offered by Redcar & Cleveland Borough Council, call 01642 444366, email: business@redcar-cleveland.gov.uk or visit: www.redcarcleveland.co.uk/business .
For more information about the Yorkshire Jewellery Company, visit: www.yorkshirejewellerycompany.co.uk