It's time for our latest round-up of what's been happening around Redcar | Cleveland.
1. Have you got much planned this weekend? Keen to get outdoors? You could do worse than stretch your legs and try out a section of a new heritage trail.
The 48-mile Way of St Hild, from Hartlepool to Whitby, was launched last weekend and takes in miles of Redcar and Cleveland.
The walk, which celebrates the contribution of St Hild to the area, features augmented reality stations – three of which are in our borough.
You can find out more here.
2. There was news earlier this week of an exciting investment opportunity in Redcar.
The former R-Kade site on the seafront is being marketed as a leisure destination.
With progress being made on the Regent plans and now the possibilities of this land, the seafront could be transformed in years to come. Find out more here.
3. It's been a good week for the Saltburn Cliff Tramway.
On Tuesday it was the subject of a very positive conversation on BBC Radio 2 as Jeremy Vine celebrated funicular railways.
And on Wednesday came the news the Tramway had again won a national award from VisitEngland. There's more detail here.
4. Ambassadors Redcar and Cleveland College held the official opening of their new training facility last week.
The facility will help local people develop the skills they need for the big industrial projects coming to the area.
A real boost for the future of Redcar | Cleveland.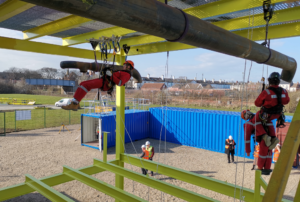 5. Finally, it's exciting to see progress on the new sitcom being filmed in the area. Check out the details below.
It was a busy and windy day on the 10th. Lovely to be supported by press & media. Read all about it! @TeessideLive @Daverobson_gaz https://t.co/jkgJjNLSHc

— BriefsSitcom (@BriefsSitcom) March 12, 2020
Have a good weekend everyone, and stay safe.