Redcar is host to the UK's first combined community bank and coffee shop in the seaside town's High Street.
The Footprints Café opened today (Friday 30 August) within the South Tees Community Bank. Offering quality food and drinks at affordable prices, Footprints aims to make life a little easier for those in financial hardship.
Footprints received nearly £10,000 from Redcar & Cleveland Borough Council's High Street Support scheme which was used for new flooring, lighting, plumbing and other improvements.
All profits from the café, which will be managed by The Mighty Redcar star Kat Kempen, will be used to fund Footprint's community activities including its foodbank. Kat herself was a foodbank user, then volunteer before becoming the new café manager.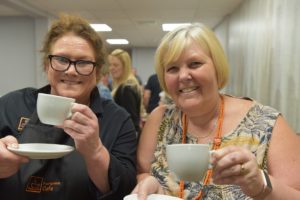 Shout about!
Ruth Fox, Chief Executive Officer of Footprints in the Community, said: "We received funding from the Council to enable us to go forward with this project. We've formed a great partnership with the new South Tees Community Bank and became the first Community Bank and Cafe in the UK.
"It's something for Redcar to shout about!"
Friendly setting
Councillor Wayne Davies, Redcar & Cleveland Borough Council's Cabinet Member for Economic Development, said: "This is fantastic news.
"Initiatives like this make a huge difference to our communities. Discussing financial matters over a coffee in a friendly setting helps remove some of the apprehension about dealing with money. And you can just pop in for a snack as well and help support this great scheme."
Quick cuppa
Symon Agnew, Chief Executive Officer of South Tees Community Bank operator Moneywise Credit Union, commented:
"The South Tees Community bank is aimed to help people in the community with their financial needs and wants to help community groups such as Footprints in delivering their goals.
"It has always been part of the plan to work closely with the likes of Footprints as they benefit our community positively and help so many people. When we first talked about the bank being at the current site we did think about operating a café so when we met Footprints and heard of their plans it seemed a perfect opportunity to explore this project together.
"It's fantastic that they have been able to set the café up and now once our members have been served by us they can be served by Footprints for a quick cuppa as well as see us."
The Footprints Café is based in the South Tees Community Bank at 14 High Street, Redcar.