I've just had my 18th birthday, which was slightly strange given these trying times. I still had a lovely time from the comfort of my own home and I loved receiving some truly lovely gifts.
My favourite was a pendant necklace with aquamarine on one side and Saltburn jet on the other.
We bought it a month or so beforehand. It was a lovely day, if a little cold. The sun bounced off the sea and the shining shopfronts. We walked the length of the town, making plans to check out all the new restaurants and cafes.
I'd heard about the Yorkshire Jewellery Company from a couple of friends and I was dying to check it out. There was a window into the workshop to watch the jewellery being hand made.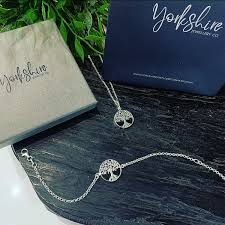 I hadn't expected for them to have so much variety: you could choose from pendants shaped like delicate squids or ornate Celtic designs; glistening bracelets shaped like hearts or bees or whatever you desired, and earrings of every size and shape. My personal favourite was Fordite, an eye-catching material made from the layers of paint hand-sprayed onto old Ford cars.
They couldn't have been lovelier, even as I agonised about which style I wanted. In the end, I had chosen four gorgeous pieces and still spent less than what I would have done if I went to a major chain of jewellery shops.
The best thing of all is that the jet is handpicked from the Saltburn shores. No matter where my life takes me, I'll always have a little piece of home with me.