The bustling market town of Guisborough has received a welcome boost to its thriving retail-life with the opening of the stunning Sophia-Jo bridal boutique, thanks to Redcar & Cleveland Borough Council's High Street Support Scheme.
The Church Street boutique is the brainchild of Skelton business partners Joanne Holmes and Sophie Rispin.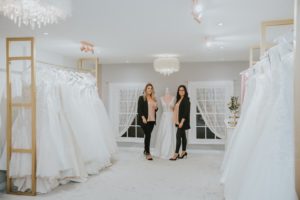 Exclusive designs
The enterprising duo have secured regional exclusivity with UK-based wedding designers in order to provide the boutique experience at the bride's preferred spend.
The brides-to-be, who are greeted with a glass of prosecco as wedding experts Joanne and Sophie discuss their dream dress, would perhaps be surprised to learn that just weeks ago the unit was undergoing a major overhaul.
Previously used as an MP's constituency office, the unit was not suitable for a retail operation. Joanne and Sophie contacted the Council and were able to take advantage of the High Street Support Scheme which provides match-funding to bring unused units back into use.
High Street Support
Joanne Holmes, 37, said: "We received the full £10,000 grant from the High Street Support Scheme. It paid for installing new electrics, structural alterations and shop fittings. The boutique looks fantastic and we've had loads of compliments from our guests.
"We couldn't have opened the business without the High Street Support Scheme."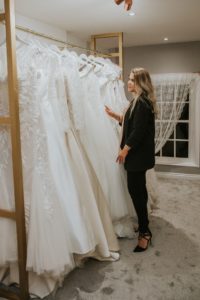 Business Growth
Sophie, 28, said: "Joanne and I both worked as wedding planners, so we know the industry inside-out.
"When we decided to go into business together, the Council's Business Growth Team was on hand, helping with our business plan and offering advice.
"The key was to find where we could offer something that our competitors can't. No one else in this region is offering what we are – a luxurious boutique experience to meet the realistic spend of a north east wedding.
"The High Street Support Scheme has made that possible and allowed us to create our glamorous, warm and inviting boutique."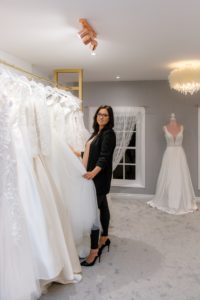 Working together
Working with local businesses is a priority for Sophia-Jo and have so far been collaborating with The Sitting Room Guisborough, Angela Waites Photography and local tailors Dandy Threads.
The partners are currently offering their customers who buy a bridal or prom gown from the boutique a complimentary make-up application with local make-up artist Nastassia Holmes until the end of February 2019.
Councillor Bob Norton, Redcar & Cleveland Borough Council's Cabinet Member for Economic Growth, said: "Congratulations to Joanne and Sophie on launching their business.
"The retail world needs more female entrepreneurs who can use their skills and knowledge to run businesses. The brains behind Sophia-Jo clearly know their stuff and I'm sure all the brides and their mothers will have complete faith in getting the right dress for their special day.
"I'm thrilled the High Street Support Scheme has played such an important role in helping them set up the business which I'm sure will prove to be a huge success."
Sophia-Jo also offers prom dresses, working with a French dress designer to provide a European flavour to the end-of-school rite of passage.
Get in touch
The High Street Support scheme provides match-funded financing for:
• shop frontage works;
• fittings for existing businesses such as service counters and waiting areas etc;
• improving security;
• enhancements to upper floors to bring them back into business use;
• bringing vacant units back into use.
For further information about the High Street Support scheme, call the Council on 01642 444494 or email: placeinvestment@redcar-cleveland.gov.uk.
Sophia-Jo can be contacted on 01287 343431, info@sophia-jobridal.co.uk, www.facebook.com/sophiajobridal or www.instagram.com/sophiajobridal19.