With just two days until the launch of Steel Stories at one of the region's much-loved family attractions, it's all hands-on deck to get the exhibition ready.
Steel Stories, at Kirkleatham Museum in Redcar, is celebrating the Iron and Steel industry on Teesside by transforming the reception area and whole first floor of the museum and taking visitors on a journey through the story of iron and steel.
Iconic industry
This unique project has been a year-long labour of love for all involved. The wide range of volunteers and partners working on the project have seen young and old coming together to celebrate an iconic industry and look to what the future holds.
An example of this partnership in action is the story of two young Apprentice Design Engineers based at Primetals Technologies Ltd in Stockton. Amy Howsden, 23, and Cameron Wright, 20, have taken on the task of creating a model of the iconic Redcar Blast Furnace that will be featured in the exhibition, opening on Friday 5 April.
Privilege
"As a newcomer to the iron and steel industry, it was a great privilege to be asked to work on the centrepiece for the Steel Stories Exhibition", says Amy. "To know that we are honouring the legacy of an industry which has been, and still is, central to Teesside and its people has brought great pride and a sense of purpose to me in the last few months.
"It has been a fantastic experience to work with people who have such direct connections to the local steelworks and listen to their stories and personal experiences of working in the industry over the years.
"Creating this model from slightly distorted hand-drawings from 1970s – that we have pulled from the archive – has certainly brought its challenges, but great rewards are very rarely reaped from taking an easy route! Bringing traditional drawings to life using modern technology is quite significant, I believe, and this fusion of "old" and "new" is what the exhibition is all about."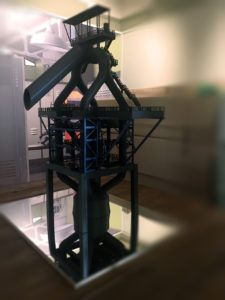 Redcar Blast Furnace
Cameron said: "Being asked to work on the Redcar Blast Furnace model was very exciting as it's been a fantastic opportunity for me to learn a new skill at work; with the steel industry being such a big part of Teesside I know how important it is to the local area", says Cameron. "We modelled this project off of old drawings that we were supplied, which made things difficult at times, but with the support available from work colleagues when needed, it was manageable.
"During the project I've had the chance to meet some lovely people, who themselves have worked in the steel industry and on Redcar Blast Furnace itself.
"The point of this project is to bring the old drawings and make them into a new model, utilising a 3D printer. The model will stand proud as the centrepiece of the Steel Stories exhibition at Kirkleatham Museum."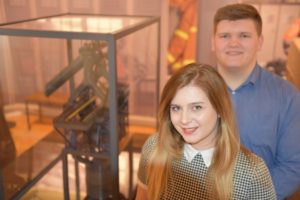 Community engagement
Launching on Friday 5 April 2019, this interactive exhibition is the culmination of 12 months of community engagement and research showcasing stories, artefacts and pictures from real people who worked and lived in the iron and steel industry. Using a variety of display techniques different stories of steel will come to life throughout the museum and grounds. Walk through a locker room, listen to stories told by real people, see the historic timeline and look to the future as the stories of steel move from the past to the present.
Steel Stories is a FREE exhibition and runs from April 2019 to April 2020 at Kirkleatham Museum in Redcar.
Partners
Steel Stories is directly funded by the Lottery Heritage Fund, the SSI Task Force: Legacy Projects and Tees Valley Museums. The Project is in direct partnership with Teesside University, and has received additional support from British Steel, Primetals, South Tees Development Corporation, North East Film Archive and Materials Processing Institute, as well as many groups and individuals as part of a wider Project steering group.