Learning has never been so much fun!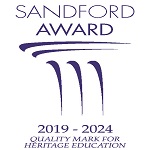 All the Museums in Redcar and Cleveland will provide learning opportunities for visitors of all ages and abilities. The museums offer a variety of workshops and educational sessions for organised groups and schools.
Early Years Foundation Stage
Key Stage 1
Key Stage 2
Key Stage 3
Making a Mark
Making a Mark is an exciting programme for children created by Tees Valley Museums working with the National Portrait Gallery. It aims to encourage children to be curious and creative and make their own mark inspired by our local heritage. More information about Making a Mark
Supported Visits
In museum-led sessions, our staff lead hands-on activities or performances specially written for children and young people. Kirkleatham Museum offers a range of cross – curricular workshops.
Multiple workshops may be combined for larger groups or for full day visits.
Our onsite education workshops give your pupils the opportunity to touch and experience real artefacts from the Museums own collection in a unique educational environment. Each session is directly relevant to the National Curriculum and is organised by our team of experienced staff, and led by museum and education professionals. Activities can also be arranged to suit your own topics.
Teacher-led Visits
On a teacher-led visit, you manage your own session as you wish. When booking a teacher led visit we assume that you are planning to explore all of the galleries as a whole. However, if you are planning to study particular displays, please let us know so that we can limit numbers in that area for your own comfort.
The Education Centre and lunch room may be booked in advance for teacher-led visits to the museum, but a charge will be made for the use of these facilities.
Teachers' online resources – http://www.npg.org.uk/MaMTeesValley
Adult to Student Ratio
We recommend the following ratio of adults to pupils:
1:4 for children of 7 years and under
1:7 for children of 8 years and above
The maximum group size that we can accommodate on site is 90 children, with a maximum class size of 30-40 children depending on the workshop.
SEN and Access Provision
Our workshops can be adapted for children with special educational needs and we offer workshops tailored for groups from special schools.
We are happy to discuss your groups requirements with you when you book.
Preparatory Visit
We recommend that you make a preparatory visit when organising a trip to the museum. We consider this visit essential to familiarise yourself with the layout of the museum, key staff members, emergency procedures, to select galleries most suited to your project and locate the facilities.
Please contact us to arrange a convenient time for your visit.
To book your visit, please contact the Museum Education Officer
Liz.Vine@redcar-cleveland.gov.uk
01642 496400