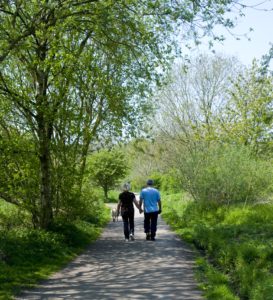 10th September –18th September 2022
Welcome to the Summer Walking Festival programme of walks. The Walking Festival is an exciting event that includes walks for everyone from beginners to the more advanced walker. Please be prepared for the weather and dress appropriately – you will need waterproof clothing, comfy walking boots or shoes, sun cream, sun hat bottles of water and food (for the walks where this is indicated).
Scheduled Walks
For detailed information about each walk please click the links below;
10th September 2022
· Family Nature Explorers Walk (1 mile)
· Flatts Lane Bat Walk (1 mile)
12th September 2022
· Highcliff Nab and Hutton Heritage (7 miles circular)
· Native Tree Identification Walk (2 miles)
13th September 2022
· Skinningrove Treasure Cove (5 miles)
· Scaling Mill Circular (9 miles)
· Moorsholm March (6 miles circular)
14th September 2022
· Handale Abbey Circular (6 miles)
· Flatts Lane History Walk (2 miles)
· Pleasant Priory Potter (1 mile)
15th September 2022
· Secrets of Saltburn Gill (3.5 miles)
· Saltburn Figure of Eight (6 miles)
· Blue Lake Circular (4 miles)
16th September 2022
· Skinningrove Past and Present (2.5 miles)
· Cleveland Way Saltburn and Brotton Circuit (6.75 miles)
17th September 2022
· Cleveland Three Peaks Health Walk (14 miles)
18th September 2022
· Ramble up Roseberry (7 miles)
Important Information
How to book
There is a charge of £2.00 per walk per person, which must be paid on booking or by 31st August 2022. You can pay in person by cash, card or cheque made payable to Redcar & Cleveland Borough Council at Flatts Lane Woodland Country Park Visitor Centre or Guisborough Forest & Walkway Visitor Centre. Please note you need to book on each separate walk individually.
Alternatively, please call 01642 459629. Or email walkingfestival@redcar-cleveland.gov.uk
We have provided an approximate finishing time for each walk, but please note that we will walk at the pace appropriate to each walkers' abilities, so please be patient on each walk as we will walk as fast as the slowest walker.
PLEASE NOTE: booking is ESSENTIAL for all walks and must be made in advance. There is also a maximum number of people able to attend each walk, this is stated in the individual walk description. Please inform us if you are unable to attend a walk you are booked on so your place can be given to someone else.
Timing
Please arrive at the meeting point at least 10 minutes before the start of each walk. Walks will commence at the given time, whether all participants have arrived or not. Each walk will vary in time and pace based on the walker's abilities, please be patient on each walk as we will walk as fast as the slowest walker.
Weather
The walk leader will be at the meeting place whatever the weather. However, in exceptional weather conditions, the walk may be re-routed or cancelled to ensure your safety.
Dogs
Where dogs are not allowed on a walk, this is indicated by the symbol. Dogs are welcome on all other walks and must always be kept on a lead or under close control. Where dogs are allowed, it does not guarantee a dog friendly route, you may need to help your dog over stiles. Assistance dogs are allowed on all walks.
Health and Safety
It is the responsibility of all walkers to ensure that they are physically fit enough to take part in the walks that they have selected, and that they have appropriate clothing and equipment. Participation will be at the final discretion of the walk leader.